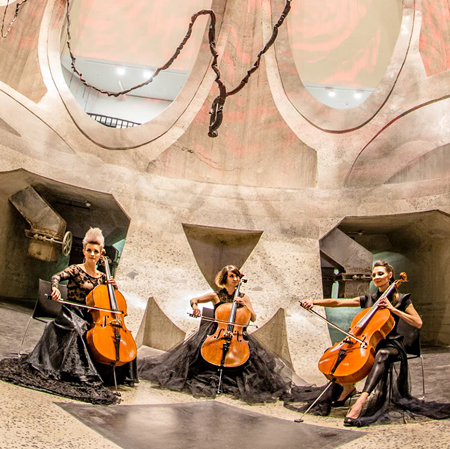 Cape Town Female Cello Trio
Luxurious all female cello trio available with acoustic or electric cellos
Exceptional talent with a member of the Cape Town Philharmonic, an electric cello pioneer and SAMA Nominee
World-first all-female electric cello trio with a unique repertoire of original music and re-interpretations
Wonderful live music option for everything from an intimate VIP party to a grand corporate function
Based in Cape Town, the trio is available for events all over the world
Cape Town Female Cello Trio PHOTOS
Our luxurious and beautiful Cape Town Female Cello Trio will provide elegant live music for any special occasion. Available as an all-female electric cello trio or as a lavishly sophisticated acoustic cello ensemble, this is a wonderful live music option for everything from an intimate VIP party to a grand corporate function.
The three female cellists share an exciting vision for the cello and all come from different musical backgrounds. The Cape Town Female Cello Trio combines the talents and experience of a member of the Cape Town Philharmonic, an electric cello pioneer and SAMA Nominee and a composer. As a world-first all-female electric cello trio they are sure to make a huge impact and delight your guests with their unique live music. 
These excellent female cellists have a repertoire that includes re-interpretations of works as varied as Vivaldi's Double Concerto in G Minor, Leonard Cohen's Hallelujah, One Republic's Secrets, Callum Scott's Dancing on my Own and Imogen Heap's Hide and Seek. 
Book the versatile acoustic cello ensemble or the electric cello trio, depending on your preference, for luxury parties, weddings, special occasions, exhibitions and much more. The female cellists have eye-catching designer gowns in various colours, which could be selected in conjunction with your event. They are based in South Africa but readily available for events all over the world.
Top Tip:
You can book one of the cellists for a solo performance and she is also available in a giant bubble sphere. 
Speak to our team at Scarlett Entertainment if you would like to book the Cape Town Female Cello Trio for your upcoming event.
Chandelier - Sia
Cheek to Cheek – Ella Fitzgerald
Dancing on my own – Callum Scott
Hallelujah – Leonard Cohen
Hide and Seek – Imogen Heap
Night Journey
Paradise -  Coldplay
Riptide – Vance Joy
African Medley
Secrets – One Republic
Stay with Me – Sam Smith
Surefire – John Legend
Thoughts of Winter
Umdaniso Tango
Viva La Vida - Coldplay
Vivaldi  Double Concerto
River Ouzoud