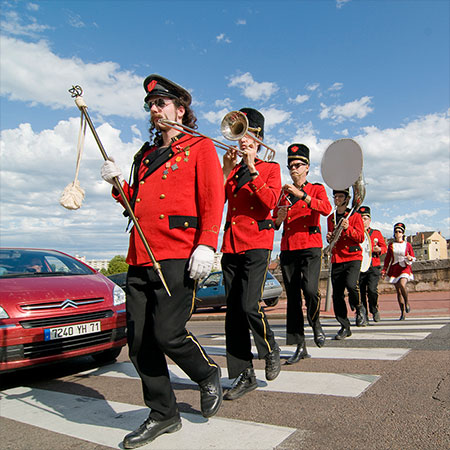 Comedy Walkabout Brass Band
Silent roaming musicians will entertain crowds at your event in many ways but making music
A unique walkabout musical act that will make people stop sharply and turn around to double check what is happening
Seriously absurd silent marching band proves musical acts don't necessarily involves music
Unique walkabout entertainment ideal for street celebrations, shopping malls, festivals, theme parks, etc.
This Comedy Walkabout Brass Band is based in Amsterdam and available for bookings worldwide
Is it possible to hire a band that doesn't play music? This Comedy Walkabout Brass Band proves this is possible and that still audiences love them!
Consisting of seven silent roaming musicians, this band is guaranteed to leave people around them speechless. Fully uniformed and in a straight line, they roam around crowded streets catching everyone's attention with their peculiar walkabout musical act.
As their name suggests, this silent marching band marches without emitting any sound. They entertain crowds around them in a number of ways but creating music. Onlookers won't help stopping sharply, look over their shoulder and wonder what is happening!
Crowds are sure to be surprised by this unique walkabout musical act! Defined by many as 'seriously absurd', this silent marching band will be the highlight of your event and will get people talking about it for years to come.
Despite not creating music, our silent marching band adds a unique visual element to your celebration and also offers a stunning photo opportunity. Our entertainers are happy to pose for pictures once their silent performance is over.
Loved by both little ones and grown-ups, this unique walkabout entertainment option is ideal for shopping malls, theme parks, festivals, street celebrations, and many more! Our roaming entertainers are happy to confuse people at event in Holland, where they're based in, and all around the world!
Scarlett Entertainment offers a wide range of unique walkabout entertainment for events and occasions in the Netherlands and all over the world.
If you would like to book this sensational Comedy Walkabout Brass Band, don't hesitate to get in touch with us today and make an enquiry. Our dedicated team of Entertainment Experts will be more than happy to provide further details on these silent roaming musicians and guide you through the booking process.
" Wow, it's like walking in a Monty Python movie. By far the coolest thing I've seen here "

Photographer Geo Geller, New York, USA
" The best fanfare I've ever seen... Seriously absurd! "

Philippe Macret, Amiens Festival, France