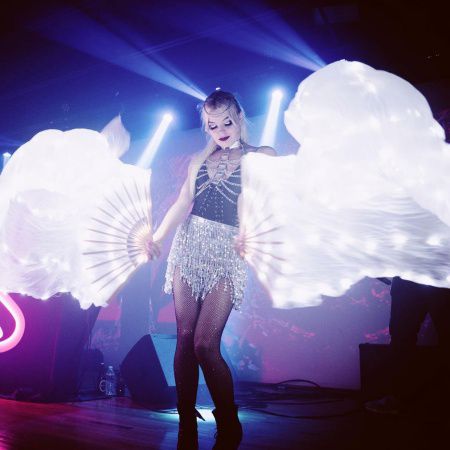 Female LED Dancer USA
A stunning interplay of different colours and lights, this LED show will brighten every occasion with a high-end glow performance
Our LED dancer can perform main stage shows and ambient routines, that make for unique photo opportunities at nightclubs, festivals or weddings
Our artist offers a variety of costumes and acts to choose from including LED hula hoop, LED fans and a beautiful illuminated butterfly performance
Light shows are customisable to fit every event theme and can incorporate logo displays or signature colours for one-of-a-kind product launches
Based in Washington DC and New York, our LED performer is available to book for private or corporate events in the USA and worldwide
Female LED Dancer USA PHOTOS
Female LED Dancer USA provides top class entertainment for every occasion and offers a completely customisable show that can be tailored to suit your event needs perfectly.
Our artists can put together visually fascinating stage performances, or entertain guests through strolling performances, allowing unique photo opportunities to remember the event. A popular choice for weddings is thereby elegant LED silk fans, or the glowing butterfly wings act.
The light show is available in a variety of costumes and LED colours and can feature a list of different props such as LED hoop, LED silk fans, LED poi and more. 
For a more enthralling and dangerous version, check out her Fire Entertainment Offerings that include fire breathing, fire hoops, poi and even swords. Or let us know if you are interested in a combined Fire and LED show for a truly unforgettable experience!
To book our Female LED Dancer USA, please contact our entertainment experts or for more entertainment options, visit our Glow and Fire Dancers page.