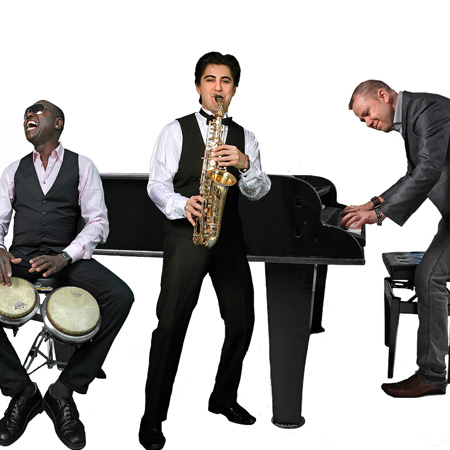 Jazz Trio Canada
Established jazz trio consist of vocals/piano, saxophone, Latin percussion
Spontaneous arrangements of familiar Jazz, Pop, Latin songs
Popular background entertainment with corporate events in Canada
Can also provide a solo pianist playing cocktail music
Based in Calgary & available to perform at events throughout Canada
THE TRIO: Piano, Saxophone and Latin percussion make a great impression at any event.  Especially the way this group play it.  Expect spontaneous arrangements of familiar Jazz, Pop, Latin songs and several fun musical surprises from this big-sounding group.  
The band interacts live onstage and surprises one another with new ideas, never playing the same song the same way twice.  And the reason this band sounds bigger than it is has to do with a musical juggling act: Chance plays piano and sings, in addition to left-hand bass on the keyboard.  Sounds like 5 performers.  And yes, they LOVE requests, just ask.
SOLO PIANO: Wedding Singer and wild piano man Chance brings an unpretentious and unpredictable style of entertaining to each new audience so not even he is ever quite sure what's going to happen next.  Pianist / Vocalist / Musical director Chance brings a wealth of musical repertoire to every show, and calls each song as the night unfolds.  Join in the action.  Sing along.  Make a request.  And watch what happens.  Dedicated to bringing the party to life by whatever means necessary.  Each event is fun and unique.  So welcome to the party!  You're in for some good music and a great time.