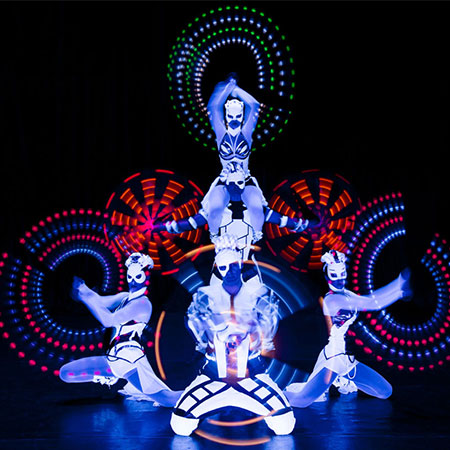 UV Stage Show
Suitable for a wide range of venues as it doesn't need to be carried out under completely dark conditions
Logos, brands or pictures can be included in the performance if required
UV lights and acrobatic equipment can be provided
Shows can be customised so they can vary from eight up to 15 minutes
Based in Slovakia and available for international performances
Take your event to the next level with this UV Stage Show, a visual feast in which LED lighting effects and UV technology are the main players. Our UV light performers make use of different tools such as luminous cyr wheels, ribbons and cubes to create an unforgettable experience for audiences.
Suitable for product launches, corporate events or brand presentation parties, our UV Stage Show can be adapted to your specific requirements. Your brand's logo or product can be incorporated to the different pre-set acts offered by these UV light performers. Their show can vary and last from 6 up to 20 minutes depending on your preferences and event's requirements.
A minimum of two LED acrobats is needed for making the most out of this act, although five performers are recommended for 15-minute shows. Their performances can be adapted so additional acrobats could also perform on demand.UV Stage Show can be completely brandable and customised to suit any event. Don't miss this opportunity to get your brand message across in an original eye-catching way. If this is the type of act you're looking for but you can't provide a complete blackout, then look no further.
UV Stage Show can be carried out under not completely dark conditions, which makes it suitable for a wide range of venues and even outdoors performances taking place at night. UV lights and equipment can be supplied if required, meaning only a big enough clean and dry stage with the appropriate lighting needs to be provided for the act to be carried out.
You can also check our Black Light Show if you're looking for a LED act performed in complete darkness, or Pyro Show and Fireshow for outstanding fire acts.
Leading global specialists when it comes to entertainment, our team of international co-ordinators can provide further details on this act, the ones named above and more.
Contact us today and make your enquiry. 
Aspire Musical - Doha Qatar
Company party Slovak Telecom - Hotel Barónka Bratislava
International Theatre festival PUF - Pula Croatia
Muscat Festival - Muscat Oman
Regular performances in Harley Davidson Pub - Bratislava
Volvo Company Event - Cafe Domenico Bratislava
Bacardi B-Live - Milano Italy
FIFA World Cup 2009 opening - Alexandria Egypt
Kuwait Open ITTF World Tour Kuwait
New Years Eve in Casino Reduta - Bratislava
Samsung Event - Delhi India
Venduto 3 - Milano Italy
Bamberg Zaubert Gala Show - Bamberg Germany
Fashion Show Natali Ruden - Prague
Lapp Group Event - Nymburg
Opera "Aida in Flammen" - Rohrdorf Germany
Social events of the Artmodels Agency - Ceské Budejovice
Youth Open Theatre - Skopje Macedonia
Bamberg zaubert - Bamberg Germany
Festival Bazant Pohoda - Trencin
Life Ball Vienna Austria
Orange Disco TV - Bratislava
Semtex Culture Club - Senec Bratislava
Weisses Fest - Kursalon Wien Austria
Cadillac - Bratislava
Festival Borgi Incantati - Pescara Italy
Markiza Party - Arena Theatre Bratislava
Party of the Microsoft Company - Kenvelo Fashion Café Bratislava
TV Program Dream with us - Slovak National TV
And more…
Canon company event - Au Café Bratislava
Geoplin Slovenia Event - Lubljana Slovenia
Mercedes Company Ball - Grand hotel Praha Tatranska Lomnica
Porsche & Audi Opening - Bratislava
Swiss Air lines Party - Kenvelo Fashion Café Bratislava
Argolla 5th Element - Gwangyang South Korea
Casino American Chance - Austria
Global Insurance Forum Singapore
Miss Slovakia - NTC Bratislava
Presentation of the Opel Company - Hotel Sachticka
Technozion - Warangal India
Al-Ashraf Event - Cairo Egypt
City Center Celje Opening - Celje Slovenia
Grand Opening Regency Casino - Hotel Fórum Bratislava
Mobinil 10th Anniversary - Cairo Egypt
Presentation of the automobile Saab - Arena Theatre Bratislava
Teatro Del Fuoco - Palermo Italy
Idea Articles Related To UV Stage Show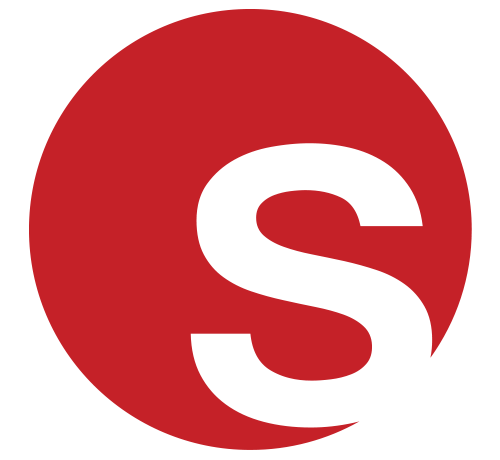 Branded Entertainment Vs Advertainment: How to Display Your Logo at Events with Entertainment
Branded Entertainment Vs Advertainment: How to Display Your Logo at Events with Entertainment
Juliana Rodriguez
|
14/02/2020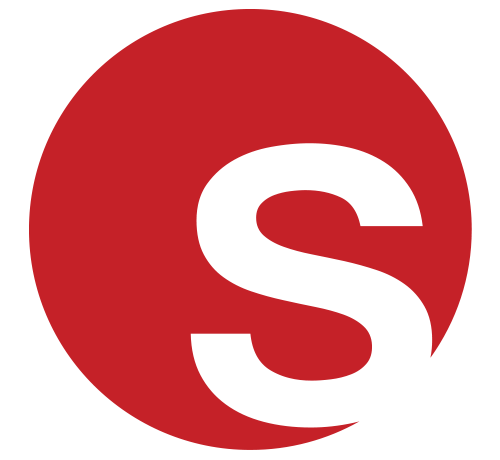 How Brands Use Technology To Increase Footfall and Brand Awareness at Events
How Brands Use Technology To Increase Footfall and Brand Awareness at Events
Grace Henley
|
07/03/2018