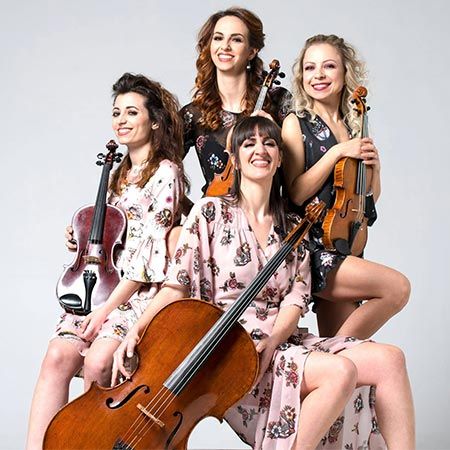 String Quartet Turin
Four elegant, glamorous females - musically trained to the highest level
In huge demand with elegant and chic weddings
A vast repertoire including classic, contemporary and popular music
Will adapt their music program to suit your event
Based in Turin, Italy and available to perform at events worldwide
String Quartet Turin VIDEOS
String Quartet Turin PHOTOS
This Glamorous and talented female string quartet is the ideal classical, dramatic entertainment option for a range of events from wedding ceremonies, product launches, exhibitions, corporate functions and garden parties.
With a vast repertoire including classical, contemporary and popular music, the Turin based quartet will play the music program perfect for your event, creating the atmosphere you desire!
To find out more contact our team of Entertainment Specialists.
Anastasia e Ramazzotti: I belong to you
Anderson:The typewriter
Forgotten dreams
A trumpeter's lullaby
The syncopated clock
Sleigh ride
Belle of the ball
Plink plank plunk
Horse and buggy
Serenata
Apocalyptica: Nothing else matter
Armstrong: What a wonderful world
Avril Lavigne: I'm with you
Aslamazyan: The red shawl
Beatles: Norwegian wood
Good day sunshine
All you need is love
Michelle
Something
World without love
Can't buy my love
All my loving
Girl
If i fell
Here there and everywhere
A day in the life
Lady Madonna
Ticket to ride
Till there was you
Hey jude
Yesterday
In my life
Across the universe
World without love
A hard's day night
Love me do
Revolution
Here comes the sun
Get back
Ben.E.King: Stand by me
Berlin: Cheek to cheek
Beyonce: Halo
Black Eyed Peas: I gotta feeling
J.Blunt: You're beautiful
Bob Marley: No woman no cry
Bocelli: Con te partir
Bon Jovi: It's my life
Breatney Spears: Criminal
Breatney Spears: Toxic
James Brown: I Feel Good
Adele: Rolling in the deep
Celin Dion: My heart will go on ( Titanic )
The prayer
All by myself
Clapton: Wonderful tonight
Coldplay: Clocks
Viva la vida
Fix you
In my place
Paradise
Cyndi Lauper: True colors
N.Diamond: Sweet Caroline
Elbow: One day like this
Elton John: Your song
Evanescence: Bring me to life
Eurythmics: Sweet dreams are made of this
E.Fitzgerald: Misty
Someone to watch over me
R.Flack: Killing me softly with his song
Frankie Walli: Can't take me eyes off you
F.Glee: Don't stop believing
Green day: Boulevard of broken dreams
Wake me up when september ends
Graham: You raise me up
D.Guetta: Without you
L.Guglielmi: La via en rose
Hamilton: Cry me a river
Harold Arlen: Over the rainbow
Heusen: Come fly
Hora cero: Buenos aires
Hupfeld: As time goes by
M.Jackson: Billie Jean
Jenkins: Palladio
B.Johnson: Since I fell for you
Journey: Don't stop believin
N.King Kole: Unforgettable
Lady gaga: Paparazzi
Alejandro
Gagalicius
Bad romances
Applause
Judas
Just dance
Poker face
Medley
Led Zeppelin: Stairway to heaven
J.Lennon: A hard's day night
In my life
J.Kelly: Singing in the rain
M.Buble: Sway