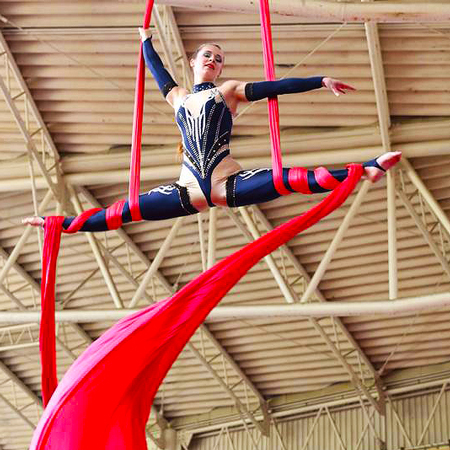 Aerial Silk Performer Russia
Superb aerial acrobat with stunning performances on silks
Fully customisable routines to suit client needs
Choice of multiple silk colours and different stage outfits
Book for everything from family-friendly to corporate events
Based in Omsk, Russia and available for events all over the world
Aerial Silk Performer Russia PHOTOS
Our exceptional circus trained Russian aerial acrobat is able to bing circus entertainment to a wide variety of events. From family friendly events to high end corporate functions, the aerial silk performer delivers incredibly high impact routines that will blow the audience away.
This aerialist is a multi-talented performer who knows how to deliver exceptional shows tailored to the audience or event type. With a range of beautiful colourful silks and aerial hammocks to chose from, she can customise the show to suit themes or colour-schemes. Book the aerial silk performer to wow your guests and become a living luxury element of your event decor. 
From the big top to the brand launch events, our fantastic aerial acrobat will create stunning silk performances to have the crowds watching in complete amazement. The aerialist's skills are totally unbelievable. Her routines can feature dizzying spins, mesmerising swings, incredible feats of strength and elegant poses. Some of her amazing skills involve sliding not down, but up the silks like you've never seen before. 
Based in Omsk in Russian, the aerial silk performer has a experience delivering her exhilarating routines to all types of crowds from family shows, circuses, nightclubs and private events. 
Don't hesitate to get in touch with our Entertainment Specialists to book this exceptional aerial silk performer for your event or private party.