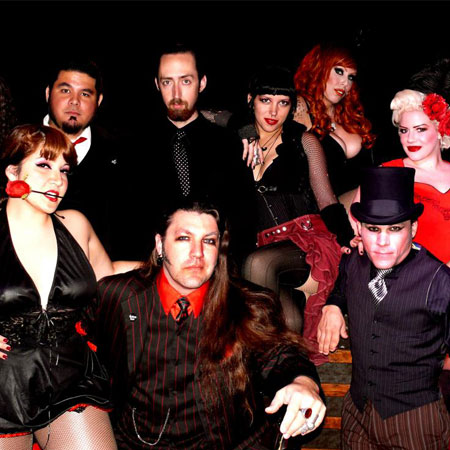 Carnival Freak Show
A freakshow act specialized in old style carnival sideshows, freak shows, burlesque, variety and vaudeville, a show straight from American mythology
These performers are passionate about delivering a show perfect for your event, visually so stunning and captivating you can't look away
This show is customisable, you can choose from over 20 performers and 40 different acts, offering spectacular stage shows and roaming acts
With 20 years of experience this act has previous clients such as NBC, Korn, The Late Late Show With James Corden, America's Got Talent and more
Based in Hollywood and available to perform at events such as festivals, themed events, carnivals, corporate events and more worldwide
Carnival Freak Show PHOTOS
A theatre company specializing in the old style carnival sideshow working acts, freak shows, burlesque, variety & vaudeville! Originally created in 2001 - this company features over 20 amazing performers including The World's Youngest Professional Knife Thrower (he's only 10-years-old, and has a dual act with his 8-year-old sister) and offers over 40 different acts.
This company has proved its mettle as a headliner, show opener, and grounds act; performing for nearly every kind of event and venue: from fairs & festivals, to amusement parks & haunted attractions, tattoo shows & biker rallies, theaters & nightclubs, colleges & universities, concerts, historical events, private parties, public spectacles, corporate events, trade shows and more! Just as comfortable in the board room as the biker bar, with audience's both refined and raucous. 
Full of sexy performers, stunning visuals and a sense of humor that keeps the audience enthralled. Like the voice from a bygone era, the show comes straight out of America's mythology. It is a dark vaudevillian extravaganza that keeps spectators coming back for more.
This company offers over 40 acts, with performers including​:
'Fakir' - sword swallowing, bed of nails, and pincushion; 
The more extreme mystic arts of mind over matter as first seen in the Far East, must be seen to be believed!  Great for tattoo conventions and Halloween haunt events.
Western Arts/Pirate - knife throwing, bullwhip cracking, and sword fighting; 
Whether interested in adventure on the high plains or high seas, visit those thrilling days of yesteryear with our highly skilled practitioners of these historic arts.
Magicians/Illusionists - close up magic, card & coin tricks, and big box illusions; 
From simple sleight of hand to mind-boggling deception, in numinous robes or wearing a tuxedo, our practitioners of the necromantic arts will amaze and astound!
Circus - Acrobats, Aerialists, and Contortionists; 
Amazing technical skills from under the big top, with strength, balance and amazing physical control both in the air and on the ground.
Cirque-type Acts - Fire-dancers, Stilt Walkers, and Jugglers; 
Atmospheric, entertaining and amazing up close or from a distance, the specialized skills of these colorful performers bring something special to any event.
Burlesque Performers - lovely ladies, exotic dances and wild costumes;
Provocative and entertaining, nothing brings more attention to a stage, booth or event like pretty girls in outlandish outfits! All ages event? No problem – our dancers can remain covered.
Talkers – Masters of Ceremonies, Key Note Speakers, and Pitchmen (and women);
The right talker can help any event run more smoothly, warm an audience up to a new product or service, or get a point across to the rapt attention of passers-by. We have the right talker for you, no matter what your needs.
Carnival Stunts - blockhead, light bulb eating, and fire-eating;
All the classic acts once seen on circus and carnival sideshows across the country, each one calculated to shock and astonish.
Human Anomalies – Little people, Giants, Genetic Freaks;
Meet those who are not as others in the flesh! We have the connections to provide you with true genetic freaks like Lobster Boy, Wolf Boy, giants, or little  people; self-made freaks like tattooed people; or we can even create gaffed (fake) freaks like a bearded lady or conjoined twins.
Hollywood Fringe Festival
Texas Showdown Festival
Georgia State Fair
Virginia State Fair
Golden State Tattoo Festival
George Washington's Mount Vernon
The Late Late Show with James Corden
The Magic Castle
Full Throttle Saloon
Delta Fair & Music Festival
Eastern New Mexico University
Kirk Von Hammett's Fear FestEvil
Sabato Gigante
Cedar Fair Amusement Parks
Maroon Five
IDEA ARTICLES RELATED TO Carnival Freak Show