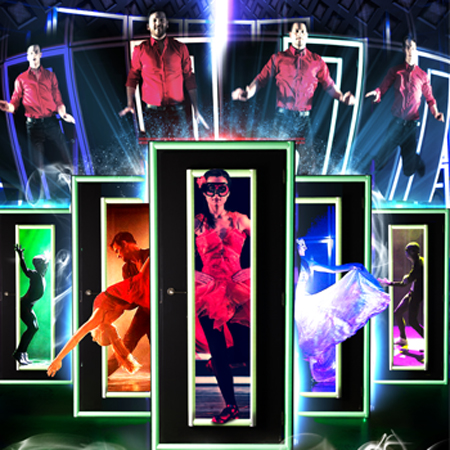 5 Door Dance In The Light Show
Takes audiences on an exciting journey through the history of dance
Spectacular audio-visuals & staging will immerse audiences in the show
Show incorporates over 10 dazzling costume changes
Ideal for theatres, after dinner shows, arts festivals & more
Based in Hungary & available to perform at events worldwide
5 Door Dance In The Light Show PHOTOS
This is a unique dance show based around the concept that the door as an object is a significant agent in human lives; a way for people to exit and enter our lives, each arrival and departure through a door has a profound effect and commands the fate of multiple people. So what would happen if several doors mixed in space, time and genres at once? This amazing and unusual performance endeavours to show us…
Using impressive audio-visuals and staging this fully-choreographed show immerses audiences in the performance, transporting them to a different time and space. Five imposing doors lit by dazzling LED lights stand in a semi-circle around the edge of the stage, from which a troupe of talented dancers emerge and commence a spectacular modern dance show that incorporates no less than eight different dance styles and takes audiences on a journey through the history of dace!
But this is not just any dance show, genres are spliced and mixed together to create a truly innovative and exciting performance that will have audiences completely captivated. 10 to 16 professional dancers bound their way across the stage incorporating stunts, acrobatics, props and numerous costume changes within their dance routines. They are also accompanied by two humorous characters in the form of mimes who are enlisted to add comedy, irony and wit to this already outstanding performance!
Dynamic, unique, innovative and completely out of this world, this one-of-a-kind dance show is perfect for theatres, arts festivals, theme parks, casinos, cruise ships, after dinner shows and corporate events.
Dance styles include:
Irish Folk & Modern
Jazz Ballet
Folk Dance
Disco
Hip-Hop
Electric Boogie
Popping
Charleston