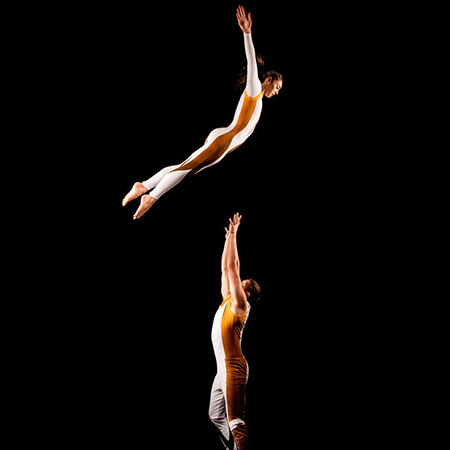 Acro Adagio Act
Duo's list of A-list clients is long and includes BBC, ITV, Channel 4, Sky, the Science Museum and more
Sensual, clever and impressive acrobatic adagio duo
Unique and innovative stage show for corporate entertainment
Experience duo have taken act all over the globe and wowed audiences internationally
UK based act available for bookings worldwide
Book our breathtaking acrobatic dancers for some of the most impressive corporate entertainment going. This dancing duet perform logic-defying stunts as an industry-leading gymnastic duo. Together and as individual acrobats they have racked up an extensive client list and worked across a range of disciplines.
Combining their considerable skills in one jaw-dropping acrobatic performance, the gymnastic duo perform lifts, tumbles and floor moves that they have developed to amazing effect. With lifts and throws that have audiences both applauding and scratching their heads, these acrobatic dancers are guaranteed to impress.
Individually the performers have worked as stunt people and combatants in major films, cirque performers, actors, dancers, choreographers and of course gymnasts. They have worked with individuals such as Justin Bieber's choreographer, Tom Hardy, Benedict Cumberbatch and for clients such as BBC, Channel 4, ITV, Sky, CBeebies and many more. Being trusted by clients of such magnitude ensures that you can rest assured you're getting the best quality entertainment available.
The dancing duet wear splendid costumes and take to the floor to perform to a carefully selected dance track. Audiences will be spellbound as the sensual dance gets underway and peaks with moves like single-handed lifts and moments that make Dirty Dancing look amateur. 
These acrobats are the height of professional acro and offer a performance that cannot fail to win and wow audiences. Suitable for a range of events, from festivals to conferences, weddings to corporate entertainment, this act symbolises mastery, skill and beauty.
To book the Acro Adagio Act, contact our dedicated entertainment team today. 
Acer
CBeebies
ITV
Panasonic
Glastonbury Festival
BBC
Alton Towers
Cadbury
Science Museum
Cartoon Network
Sky
DC Shoe Co. USA
Channel 4
MTV
Camaro
...and a long list of private clients...
Dyson