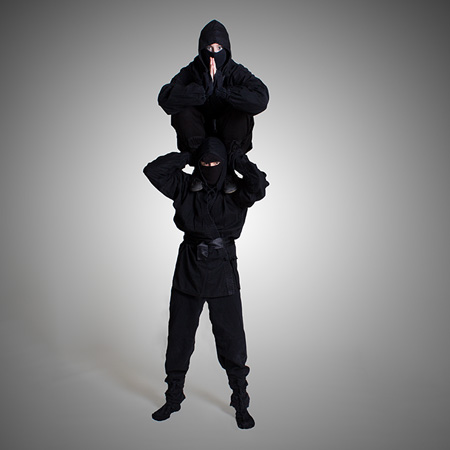 Acro Ninja
Stealthy ninjas offer highly impressive and very comic show
Traditional ninja costumes with masks and hoods
Incredible athletes bring fun and silliness to their act
Can perform as solo ninja or duo, and offer roaming act
Oxford-based act available for international bookings
Book our incredible martial arts show for amazing corporate entertainment and a stunning parkour act. Dressed in traditional black costumes, the ninja show is both highly impressive and very comic. The acro show offer a stage act and a walkabout act perfectly suited to a large range of event types. 
Most people wouldn't immediately associate ninja with comedy and humour, but this parkour act have created a hilarious act that jumps, spins, rolls, somersaults and does hand balance. They will sneak around your event and venue, hidden by their movement and black clothing, and then emerge onto stage to perform their act.
As well as a stage show, the martial arts show can provide a walkabout service which is adaptable to the needs of the client. Choose your level of audience interaction for the roaming component, and how long it lasts. You can also select how many ninja you want at your event, from one to six. They can all adapt into stage shows of various sizes.
The act is also able to be customised in terms of theme given that enough time is provided for the troupe to rehearse in the requests. The ninja can be combined with other acts, such as the Custom Free Runners or the Custom Aerial Show, enabling you to have a variety of narratives and styles within one event. This is perfect for conferences or functions where the guests represent different areas or disciplines. 
The ninja are a light-hearted take on a pastiche idea, but that does not alter the fact that this troupe are seriously impressive and some of the best athletes in their field. As such, they create the perfect combination of humour and showmanship, mastery and fun. 
Thanks to the wordlessness of the act, it truly is suitable for audiences of any age and nationality and goes down just as well with kids as it does with adults. Applicable once again to the international conference and events industry, the act will go down a treat. The professionals in the troupe are the top of their game, and their list of delighted, high-profile clients bears testament to that.
To book our Acro Ninja, contact our team of dedicated entertainment professionals today. 
Barnados
Chrysler
ITV
Mercedes-Benz
NVidia
Sky
TigerAspect
BBC
Burton's Biscuit Co.
Discovery Channel
MacMillan Cancer Support
Mont Blanc
Samsung
Sony
Ubisoft
Barclays