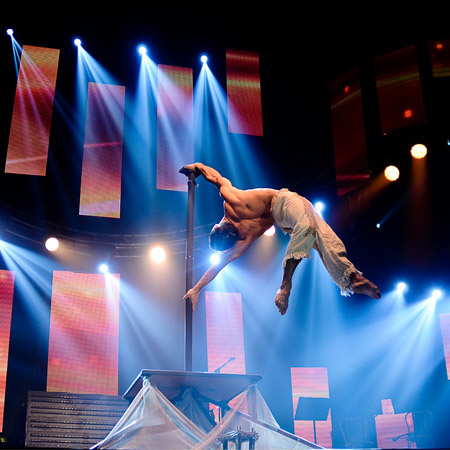 Acrobalance Performer France
Professional acrobalance performer will amaze your audience with ease.
Incredible Chinese pole performance will keep your guests at the edge of their seats.
Using hand balance techniques, our wonderful performer creates an alluring experience.
Perfect circus act for private parties, festivals, themed events, corporate functions, and more.
Book hand balancing act for events across France and worldwide.
Acrobalance Performer France PHOTOS
Specialising in his unique and mystifying hand balance techniques and Chinese pole performances, our fantastically trained acrobalance performer will take your upcoming special event or social gathering to a whole new level of "wow." Engaging and entertaining guests with his fantastic circus act, our skilled performer is bound to amaze and inspire your guests no matter their age. Performing with full dedication, elegance, and strength, our acrobalance performer's hand balancing act will provide exceptional circus like entertainment that demonstrates his amazing skill set.  
Dazzling Chinese pole manoeuvres will keep guests in awe as our acrobalance performer performs an alluring routine with the pole that will quickly and easily capture attention. Delivering a mysterious and sensuous performance, our hand balance master will fill your venue with laughter, wide eyes, and jaws on the floor. Our high dynamic hand balancing act and circus act are sure to leave guests with unforgettable memories and experiences as they take your event to the top. A fantastic and skilled performer that is always perfecting his performance will no doubtfully provide a "wow" factor element. 
An outstanding performance, our dazzling male acrobalance performer is bound to leave a lasting impression at your event, covered by the resounding sound of your amazed audience. Performing in perfect synchronicity, our performance can be tailored to fit most event themes and style guidelines, offering a few customisable options that will truly help your event stand out among the crowd. A fun, stunning, jaw dropping dynamic hand balance show that is simply marvellous. The perfect hand balancing act for private parties, theatre performances, corporate events, family days, and much more.
If you are interested in hiring our marvellous acrobalance performer and his daring circus act experience for your next event or gathering, contact our helpful Scarlett Entertainment team who are always ready to assist with your booking needs.