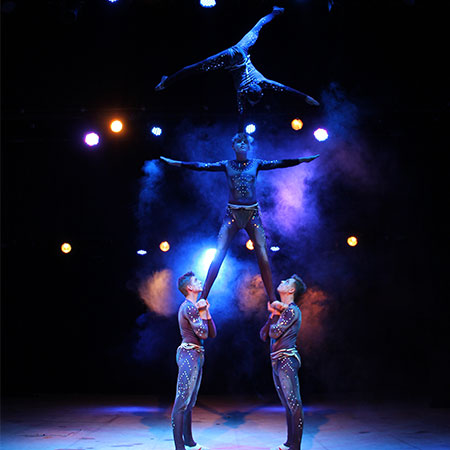 Acrobalancing Group Act
Mind-blowing acrobalance moves and choreographies performed by experienced circus performers
Execute perfectly synchronised routines that combine elements of adagio and impressive acrobalance moves
The perfect combination of physical strength, flawless technique and artistic expression
Ideal circus entertainment option for after dinner experiences, gala shows, ceremonies, etc.
This Acrobalance Group Act is available for bookings in Ukraine and internationally
Acrobalancing Group Act PHOTOS
This Acrobalancing Group Act will leave audiences at your upcoming big event speechless. By mixing impressive gymnastic tricks and mind-blowing acrobalance moves, these circus specialists execute visually stunning routines that have been highly acclaimed by experts and widely applauded by international audiences.
This group of experienced circus performers are very passionate about circus in general and acrobalance in particular. Acrobalance is a circus discipline that combines elements from adagio and hand balancing, resulting in an extraordinary display of physical strength and flawless technique. A physically demanding performance, this circus show also involves great agility and high doses of concentration to perform the seemingly impossible positions, impressive gymnastic tricks and mind-blowing moves that shape and mould their choreography.
Our acrobalance specialists have plenty of experience performing together. Inspired by circus art and different disciplines, they offer a stage show that mixes artistic expression with many technical elements. Dressed in futuristic costumes and with their faces fully painted, these world-class entertainers are guaranteed to leave a lasting impression and get people talking for years to come.
Especially enjoyed by circus lovers, this acrobalance act captivates all sorts of spectators with their coordinated choreographies and impossible figures. These three-times European bronze medalists will bring their expertise and creativity to events in Ukraine (where they're originally from) and events all over the world.
Suitable for a variety of occasions, our experienced circus performers regularly perform at after dinner shows, gala dinners, theatres, circuses, ceremonies and festivals, although they're always happy to adapt their show to any situation and stage.
Scarlett Entertainment can offer Circus Entertainment for events and occasions all over the world.
To book this phenomenal Acrobalancing Group Act, contact our in-house team of Entertainment Experts today and make an enquiry. They will be more than happy to provide further information about our acrobalance specialists and guide you through the booking process.