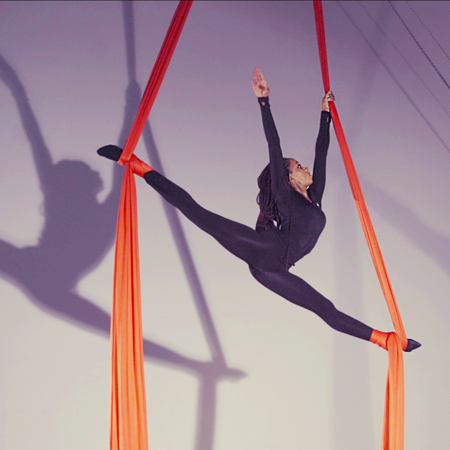 Aerial Silks Acrobat
Gravity-defying aerial silks act is the perfect combination of flawless technique and boundless creativity
Aerial silks dancer is happy to adapt her routines, costumes and music to suit your requirements
Suspended from the ceiling, our acrobat executes beautiful and dynamic aerial moves
Ideal aerial performance for corporate events, gala dinners, after dinner shows and more
This Aerial Silks Acrobat is based in Spain and available for bookings worldwide
Aerial Silks Acrobat PHOTOS
Impress guests at your upcoming event by hiring this fantastic Aerial Silks Acrobat, a highly skilled aerialist that is guaranteed to cause jaws to drop with her visually stunning aerial silks act.
A display of flawless technique and boundless creativity, the aerial performance delivered by this talented acrobat never fails to impress. A gravity-defying aerial silks act that requires strength, agility, balance and tons of concentration, our artist's routines always leave audiences wide-eyed.
Fully customisable, our aerial silks dancer's choreographies can be tailored and adapted to different music choices. Our acrobat is committed to work closely with you in order to transform the ideas you have in mind into reality. On top of that, she can wear different bodysuits or costumes to go in accordance with your event's theme.
Suspended by the ceiling by flowing silk, our aerial silks dancer will perform an ambient acrobatic display bending, cutting shapes and lines through the air. She carries out impossible figures and beautiful aerial moves with exquisite elegance, adding a sophisticated touch to any occasion. Ideal for audiences of all ages, both children and adults won't help looking up in the sky and be marvelled by this incredible performer's exceptional aerial performance.
Suitable for a diverse range of celebrations, our aerial silks dancer is the perfect entertainer for gala dinners, after dinner shows, product launches, corporate events, festivals, weddings, and many more! Happy to adapt to different performance spaces, our aerial circus entertainer always welcomes the opportunity to be creative and perform both indoors and outdoors, weather permitting.
Scarlett Entertainment offers a variety of aerial circus entertainers for bookings in Spain and all over the world.
Enquire about this Aerial Silks Acrobat by contacting our wonderful team of Entertainment Specialists today. They will be delighted to provide further details on this aerial silks dancer and guide you through the booking process.