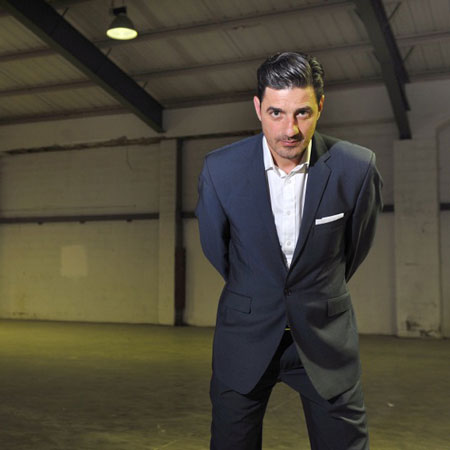 Alexis Conran
Presenter of popular TV Show 'The Real Hustle'
Keynote Speaker on Psychology, Security and Risk
Explains the power of mind manipulation
Winner of Celebrity MasterChef 2016
Based in London and available internationally
Our Keynote speaker Alexis Conran is a TV presenter and LAMDA trained actor recognisable TV shows such as The Real Hustle, Secrets Of The Scammers Mind Control Freaks and Man V Expert as well as becoming the winner of Celebrity MasterChef 2016. 
Alexis Conran is a charismatic and engaging keynote speaker and after dinner speaker. Using his knowledge and expertise on the deceptive world of hustling, pickpockets and con-artists to advise and educate on a variety of speaking themes. Topics he covers include issues surrounding security, the risks faced on a regular basis by businesses, identifying human behaviour, communication skills and confidence tricks that some of the world's top scammers rely on to achieve their unjust plans. This keynote speaker focuses his talks on ways to protect yourself against the increasing number scams.
The TV presenter's speaking themes are as follows:
• Why Systems Fail
• Trust and Transparency
• Why Take The Risk? 
• Hacking Human Nature
• How to Stay Safe in an Uncertain World
• True Tales of a Hustler
TV Presenter Alexis Conran can adapt and customise his style from an informative keynote speaker to becoming entertaining and fascinating after dinner speaker. The after dinner speaker will dazzle guests with his magic skills and talk of achieving outcomes using sleight of hand techniques and talk of the true tales of a hustler. 
Our keynote speaker's clients include IBM, the RSA Security Conference, Barclaycard, Experian, RBS, Halifax, Aviva, Facebook, Porsche, VISA, The Metropolitan Police and the City of London Police.
Alexis Conran continues his career as a TV Presenter with shows around themes of deception, psychology and conmen, constantly growing his knowledge in these matters and applying them to his speaking themes making him an incredibly relevant and current keynote speaker.
To book Alexis Conran for your event, contact our team at Scarlett Entertainment. 
" Both interesting and entertaining. Alexis also spent time chatting to guests before and after speaking, he was a pleasure to have at our event "

Ares Management
" Professional and charismatic speaker; engaged well with the audience and kept their interest throughout the presentation. Could have listened to Alexis and his amazing stories all day… "

SPD Development Company Limited
" Alexis both before, during and after his talk was easy to approach and great to talk to. He managed to go way over the agreed 30 minutes which shows how much he enjoys what he does and that transmits to the audience. Everybody was captivated by both his personality and stories and it was a perfect marriage really "

Visa