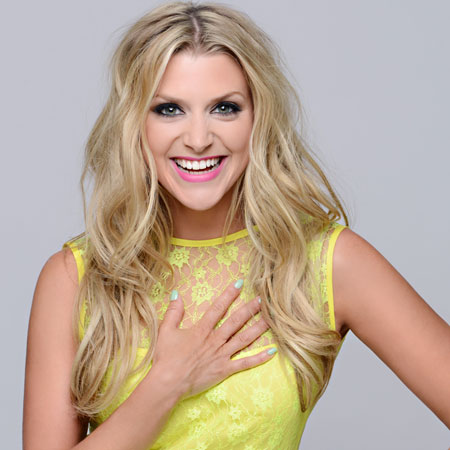 Anna Williamson
TV celebrity, radio presenter and sought after awards ceremonies and corporate event host
Mental health campaigner, master NLP Practitioner, counsellor and best-selling author
Resident agony aunt and psychology expert on ITV's This Morning
Experienced Corporate Event Host Facilitator, presenter and keynote speaker
Based in the UK and available for events worldwide
TV celebrity Anna Williamson is a fantastic and highly experience corporate event host, awards host, conference facilitator guaranteed to make a very successful impact on your guests. Her skills as a psychology expert are in great demand for a variety of events, TV shows and publications.
Anna has been booked as an event host and conference facilitator for the likes of Viacom, Camelot/BP, Supply Side West World of Nutrition, DSM/Elderman, Barnardo's, Toy Fair and Young Variety Club. Her skills as a brilliant awards host have been used by BAFTA, Disney Channel, Busy Bees, Princes Trust and Nickelodeon. Anna uses her gained skills and previous experience and incredible charm to champion your brand, win over your guests and make the whole event a complete success. 
Anna Williamson is a TV celebrity who found fame hosting a variety of Children's TV shows and, after suffering from generalised anxiety disorder, has become a mental health campaigner, master NLP Practitioner, counsellor and psychological expert. This particular attribute has led her to being a psychology expert on ITV's This Morning, Good Morning and Big Brother's Bit on the Side.  As an experienced presenter, this TV celebrity has also become the host of the National Lottery Xtra. 
Aside from an brilliant event host, presenter and the host of her own TalkRADIO Saturday night show, Anna Williamson is a high ranking author and columnist for multiple publications and voice over artist.
Book Anna Williamson as a:
Event Host
Awards Host
Conference Facilitator
Contact us at Scarlett Entertainment for more information and availability. 
Later with Anna Williamson (Radio Host - talkRADIO)
TalkRADIO (Showbiz correspondent)
Breaking Mad (Author - Published by Bloomsbury)
Big Brother's Bit on the Side (Psychology Expert - C5)
Splash (ITV)
This Morning (Psychology Expert - ITV )
The O'Brien Show (Expert ITV)
BAFTA (Event Host & Online)
Christmas Campaign (Voice Over Smyth Toys)
Toy Fair (Host Olympia)
Busy Bees (Speaker & Compere)
My Wedding Scrapbook (Presenter Videojug/Youtube)
European Music Awards (Host Viacom/corporate)
Lorraine (Showbiz Correspondent - ITV)
Digital Spy (Showbiz Columnist)
Kung Fu Panda (Red Carpet Host Fox Movies)
Nickelodeon Christmas Party (Presenter Nickelodeon)
Girl Talk (Columnist Expert)
Top Sante (Columnist Expert)
Gumball Rally (Presenter)
Pantomime (Various)
Daybreak (Showbiz Reporter ITV)
BetSafe Football show (Mastroc Sweden)
GMTV (Showbiz Reporter ITV)
GMTV (Competition Host ITV)
The Princes Trust (Celebrity Ambassador)
Mind (Celebrity Ambassador)
Dream Toys (Host Annual Launch)
N-View (Voice Over Nickelodeon & MTV)
Camp Orange (Presenter Nickelodeon)
House of Anubis (Presenter Nickelodeon)
Jamie & Anna's Big Weekend (Presenter Nickelodeon)
Kids Choice Awards (Red Carpet Host Nickelodeon)
Scary Sleepover (Presenter CITV)
Toonatik (Presenter CITV)
Continuity (Presenter CITV)
Rescue Robots (Presenter CITV)
Disney Channel (Presenter)
Robot Wars (Presenter C5)
Summer Roadshow (Presenter C5)
The Core (Presenter - C5)
Milkshake (Presenter - C5)
Blush (Singer in band)
National Lottery Xtra (Presenter Online)