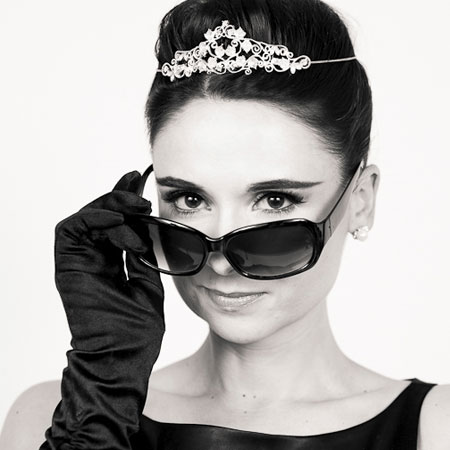 Audrey Hepburn Lookalike
Has the movements, voice, style & graceful attitude of Audrey Hepburn
Will add glamour & sophistication to any corporate event & product launch
Can stay in character, interact with your guests, have photos taken...
Previous clients inc Daily Mail, NSPCC, Ambiente, Siemens, Scottish Widows
Based in London and available for events worldwide
Audrey Hepburn Lookalike PHOTOS
Zoe is a professional actor, and has developed the movements, voice, style and graceful attitude of Audrey Hepburn. Working as a celebrity Audrey Hepburn Lookalike for many years, Zoe will add glamour and sophistication to any event. Based in central London and available for work in Europe and Internationally, Zoe is the number one UK Audrey Hepburn Lookalike.
As the UK's Top Celebrity Lookalike for Audrey Hepburn, Zoe can also be booked for your events/ PR promotions/parties as Audrey Hepburn (Breakfast at Tiffany's). Appearing as Audrey Hepburn's Breakfast at Tiffany's look, full costume and make-up, complete with Audrey Hepburn styled hair and accessories.
She is often booked with other leading celebrity lookalikes, Marilyn Monroe, James Dean, Frank Sinatra and other Hollywood icons, to create a glamorous impact of authentic celebrity status and style to your event or promotion.
Zoe is available for all party requirements and corporate events. She will stay in character, interact with your guests, have photos taken, present prizes, welcome on arrival, or any other ideas or requirements that you or your client may have.
NSPCC- hosted by Carol Vorderman and Ruby Wax
London Musem of Moving Image
Siemens - (Berlin)
Albert Hall
Mayfair Hotel
And many more...
Scottish Widows- London Christmas Party
Imperial War Museum
Slimming World -Birmingham NEC
Ambiente Frankfurt
Hilton Hotel
Openings Retail Stores
Daily Mail-London Christmas Party
" Thank you for making it a wonderful event, you were charming "

Slimming World- Birmingham
" Thank you so much, you made are party so special and fun, you look just like Audrey! "

Private Party-London
" Wow, you are a beautiful Audrey! "

London Museum of Moving Image
" You are the perfect Audrey, wonderful! "

Siemens- Berlin
" Fabulous Audrey, you were great! "

Daily Mail-London
" I am seen all your films, you look amazing, please can I have your autograph!? "

Ambiente -Frankfurt