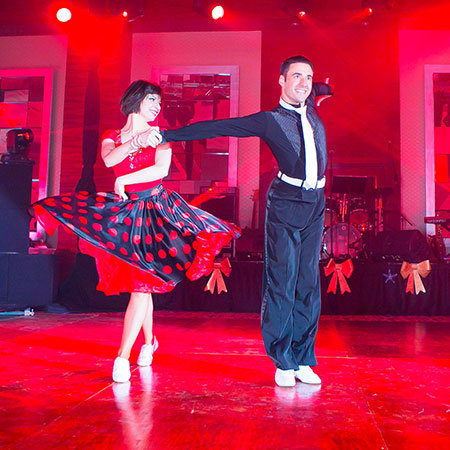 Ballroom Dance Shows
Talented dancers specialists in freestyle ballroom dances and Latin American styles
Create bespoke choreographies and live dance performances especially for your event
Happy to create shows with more dancers and adapt their choreographies to different performance spaces
Perfect cruise ship entertainment and live dance performances for weddings, private parties, festivals, etc.
This Ballroom Dance Duo from Russia is based in Moscow and available for worldwide bookings
Ballroom Dance Shows VIDEOS
Fill your venue with the danceable beats and contagious rhythms of Latin, cha cha and other ballroom styles by booking these Ballroom Dance Shows. This talented and creative couple of dancers creates and execute dynamic and original choreographies full of beautiful figures, incredible lifts and fluid movement.
Mainly performed by a ballroom dance duo with plenty of experience performing for both small and large audiences, these live dance performances can be adapted to each specific occasion. Our dancers and specialists in freestyle ballroom dances and are happy to design choreographies especially for your event.
Some of the styles this ballroom dance duo masters include classics such as waltz or quickstep, although they're specialists in Latin American dances. They enjoy experimenting and mixing different styles, creating innovative and very unique freestyle ballroom dances that audiences love and applaud.
Happy to share the stage with other dancers, our performers always welcome the opportunity to be creative and create choreographies with other couples. You can see an example of a choreography with four dancers by checking the videos above.
The live dance performances offered by this creative duo are for cruise ship entertainment and other events like weddings, private parties or festivals, to name a few.
Our ballroom dancers have participated in numerous competitions and championships in Russia and across Europe. One of their remarkable professional achievements was winning the Czech version of 'Dancing with the Stars' and participating in 'Love Dance', a TV format with great success in Russia, Spain, Belgium and Germany.
Scarlett Entertainment offers a variety of ballroom dancers and cruise ship entertainment all over the world.
Enquire about this Ballroom Dance Shows by contacting our in-house team of Entertainment Experts today. They will be happy to share more details on this ballroom dance duo and assist you in the booking process.