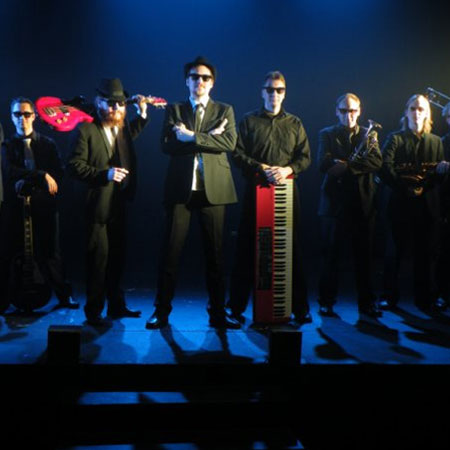 Blues Brothers Tribute Act
8 piece strong Blues Brothers Tribute Band with a 'Blues Brothers' theme
Using the classic dress code, stage props & Blues Brothers sound
Covering some of the most iconic tracks in both Blues Brothers movies
A full horn section, keys, drums, bass, guitar, harmonica & vocals
Based in London, UK and available to perform at events worldwide
Blues Brothers Tribute Act VIDEOS
Blues Brothers Tribute Act PHOTOS
This act are an eight-piece strong Blues Brothers Tribute Band with a 'Blues Brothers' theme. Delivering a fast-paced, high octane performance of the most iconic tracks in both Blues Brothers movies. With a full horn section, keys, drums, bass, guitar, harmonica and vocals, this Blues Brothers tribute are capable of producing a sound that will kick-start any party into life.
With over two hours of set list to choose from, a set list which is expanding constantly, you'll always be treated to the best that this tribute band can offer. All kinds of music catered for; Funk, Soul and Rhythm and Blues, as far as they're concerned that's all the kind of music there is.
This is a Blues Brothers Tribute act with real wow factor and a guarantee not to disappoint...
Can't Turn You Loose(Intro song)
Everybody Needs Somebody To Love
Gimmi Some Loving
Soul Man
I Got Everything I Need..Almost
In The Midnight Hour
She Caught The Katy
Mustang Sally
Hard To Handle
Bright Lights Big City
Need Your Love So Bad
Shake Your Tail feather
From The Bottom
Peter Gun Theme
Rawhide
Set One
Memphis Soul Stew
Knock On Wood
Messing With The Kid
Excuse Moi Mon Cherie
Hey Bartender
Minni The Moocher
6345789
Take Me To The River
The Letter
Mr Pitiful
Who's Making Love
Do You Love Me
Flip Flop and Fly
Sweet Home Chicago
Encore
Treat Her Right
Johnny Be Good
Superstition
Set Two
Harlow Swing Into Spring Festival
The Litten Tree - Brentwood
Abridge Music Festival
Canalway Cavalcade Boat Festival
Harlow Town Football Club
Yates Wine Bar - Harlow
And Many More...
Leytonstone Music Festival
" You guys were absolutely amazin..... you made the night at Jims birthday party I was still getting texts and emails a week later from our friends and family apparently almost everyone in Aberdeen heard about the party that night and wished they were there. Cant thank you enough for making it a birthday to remember... Great fun, Great music and fab guys. "

Julie Morrison (Birthday party - March 2011)
" Lads - I have to say what a great gig today in Swanage. You put a smile on my face - and my wife would tell you that's an achievement in itself. Seriously, thanks for a great show - we thought you were great fun and musically SPOT ON! "

John Mullin (Swanage Blues Festival - March 2010)
" Just want to say a big thank you to the Blues Brothers tribute for playing at my 30th Birthday Party. We all had a great time and a good dance!!! Thanks for playing all the well-known Blues Brothers favorites as well as some classic soul hits!! Also a big thank you for playing my special request of 'Final Countdown' - brilliant! You have certainly acquired some new fans! Cheers again and can't wait for the next gig "

Sarah Roper (Birthday Girl)
" Thanks for the great show you put on for the Harlow festival last week, the band really got people dancing and singing along to all of the blues brothers songs, hope to see you again next year "

Ian (Festival Co-ordinator)
" We would like to thank the Blues Brothers Band for making the Little Venice Cavalcade so special once again. We saw you in 2008 and we were blown away by your music. When we heard you were doing this years Cavalcade (2009), we were very excited. You certainly did not disappoint us or all the other boaters who were at the event. We had such a perfect evening and we are sure everyone enjoyed themselves as much as we did. We look forward to seeing you at another boat festival or indeed at the Little venice Cavalcade again. Good luck for the future. "

Jo & Keith Lodge (Narrowboat Hadar)
" Many many thanks for making our 50th birthdays so memorable. I have had lots of emails from our guests telling me the same, and how much they enjoyed the evening. Please pass on our best wishes and thanks to the other guys. Good luck for the future, please keep banging out some of the best tracks ever! "

Graham and Jackie (50th Birthday party - March 2012)