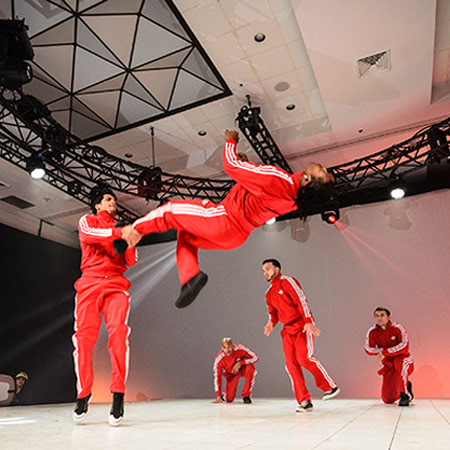 Break Dance Crew Florida
Professional, interactive breakdance crew with amazing energy
Integrate social media and mobile device technology into productions
Have experience in live TV, commercial, and film performances
Most members have more than 10 years of breakdancing experience
Based in Florida and available to perform at events worldwide
Break Dance Crew Florida VIDEOS
Break Dance Crew Florida PHOTOS
Break Dance Crew Florida is an interactive breakdance production that electrifies and engages audiences of all backgrounds.
Dancers execute a variety of dynamic dance segments that entertain and amaze. From freestyle to choreographed numbers, dancers leave the crowd wanting for more with their thrilling routines, flips and stunts.
You can customise the Break Dance Crew and fit the urban spectacle to meet the needs of your function. Select songs to be integrated into the performance, choose the crowd participation segments, select key attendees who you would like to be highlighted and even add additional performers for larger events.
The Break Dance Crew Florida are perfect for product launches or corporate events and celebrations, they can even integrate social media and mobile device technology into crowd interaction segments.
The team want to help you see your vision come to life by assisting you in planning the performance of your preference, cutting an urban edge to an unforgettable experience. So...what are you waiting for?
AMDOCS
Delray Beach Marketing Cooperative
Gulfstream Park
Macy's
Mercedes Benz
Reed Exhibitions
TAXI Advertising
UniFirst Corporation
AutoNation
Central Florida Hospitality
Gartner
Kraft Foods
Marriott
NewsLink
Spicerhaart
Think Up Consulting
And Many More
Agency 21 Consulting
" Thanks again for everything. It was a pleasure to work with you through the planning process and onsite at the conference. You and the "crew" were key components in our amazing event. "

Emily Watson, Synchronization Strategist at Think Up Consulting
" On behalf of the entire Hip Hop 4 Health Team, we would like to thank you for participating at the 8th Annual Hip Hop 4 Health Fair. The performance was truly enjoyed by the attendees and we can't thank you enough for dedicating your time to the event. "

Isabelle Duran, Assistant Finance Manager at Agency 21 Consulting
" Not only did you provide excitement within our store but brought you also curiosity to the department. The members of Dance Crew are extremely talented! "

Lauren Kirtley, Macy's Regional Event Coordinator
" I would like to thank the Dance Crew for making our store's Grand Opening Event a truly memorable experience for the over 550 guests in attendance. Your talented group of dancers provided a unique combination of professionalism, style, humor, and fun! Our guests are still raving over your performances and your impressive dance moves. I recommend you for any type of event! "

Raymond J. Kayal, Jr., President & CEO of Newslink Group
" I highly recommend the Crew for any corporate events. They were extremely professional and delivered much more than we could have anticipated...they even had ME on the dance floor! "

Adam Soreff, Marketing Director of UniFirst Corporation