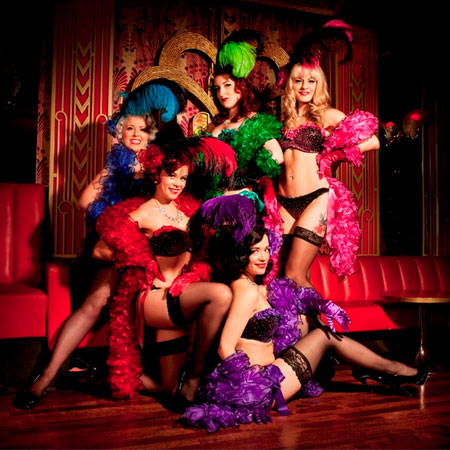 Burlesque Dance Troupe
Electrifying burlesque dancers with a fun contemporary twist
Nominated for Best Burlesque Act 2012
As seen on ITV's The Alan Titchmarsh Show
Offer a range of themes to choose from to get your party 'just right'
Based in London and available to perform at events worldwide
Burlesque Dance Troupe PHOTOS
London's Electrifying Burlesque Troupe brings you unique and spectacular choreography with a fun contemporary twist.  Inside their selection box you will find a heady blend of song, dance, circus and classic burlesque striptease.  With such a varied repertoire of acts to choose from, the girls are an extremely flexible choice for your entertainment. Anything from one burlesque solo to a full night's entertainment, these girls can create a show specifically for the needs of your event.
Since launching the troupe in 2010 the girls have taken the Burlesque world by the tassels, touring Italy, Germany, Denmark, Amsterdam, Jersey and performing throughout the UK.  Clients that have enjoyed them include: Goodwood Revival, Bestival, Indigo at the O2, Elton John's Aids Foundation Ball, Mercedes Benz, Café De Paris, Volupte and Time Out's 'Big Burlesque Debate'.
With over 30 years of dance performance experience between them, they have quickly established themselves as a leading force on the Burlesque circuit. Unlike other burlesque acts, these girls can offer a wide range of themes to choose from to get your party 'just right'.  They include, Balloon Pop, Santa Baby, Officer Frisky, Desperate Bride, Flasher Dance, Fetish Ballet, Swinging Showgirl, Fire Breathing Belly Dance, Pin Up Girl From Outer Space, All That Jazz, A Very British Showgirl, Carry On Camping, 50 Shades of Gold, Morticia the Vamp, Babes of the Blitz, Burlesque Barbie and plenty more...
Contact our in-house team of Entertainment Specialists and enquire about this sassy Burlesque Dance Troupe.
ITV
Oxjam
Beyond Retro
World Burlesque Games 2012
Madame Jojo's
Bestival
Cafe de Paris
The Edinbrrugh Festival Fringe
Titchmarsh Show
London Burlesque Week 2011
The Tassel Club
The Blue Stocking Society
Burlesque Freakout
Soho Rooms
" Sparkling and sexy "

GQ Italia
" Ripe with quirky, intelligent and eye-catching entertainment, it's great bang for your buck, and a fine serving of burlesque for aficionados as well as the casual fan "

This is Cabaret
" A lovely balance of classic strip and flirty pop, I can't remember the last time I smiled so much during a show. They are seasoned pros, each lady a strong, stand alone stripper and together they are a bowl full of frothy, sparkly fun "

Rubyyy Jones, Burlesque Beat
" At times you could have heard a pin drop, then jaws drop as the assmebled audience oscillated between incredulity and amusement at the tightly choreographed and expertly staged burlesque emsemble before them "

This is Cabaret
" You could not ask for more this evening. The sky in Milan is studded with stars and they're shining with the light of Burlesque "

Rockol Italy
" The four bombshells deftly spurred the public into a whooping, wolf-whistling frenzy, masterfully adapting the intimate language of burlesque to the daunting magnitude of a proper West End venue. "

C.J. Lazeretti, Erotic Review
" The group immediately had the entire audience in the palm of their hands, seducing us with their charm and wonderfully comic expressions....all I could think were how amazing the costumes were and how jealous I was of the choreographic skills. Gay, straight, lesbian, bi or undecided, I bid anyone not to be hypnotised by a well-choreographed nipple tassel. "

Dan Phillips, Bargain Theatreland
" All red lips and wiggling derrieres, the enthusiastic audience is soon making whoopee and joining in the fun... "

The Stage
IDEA ARTICLES RELATED TO Burlesque Dance Troupe