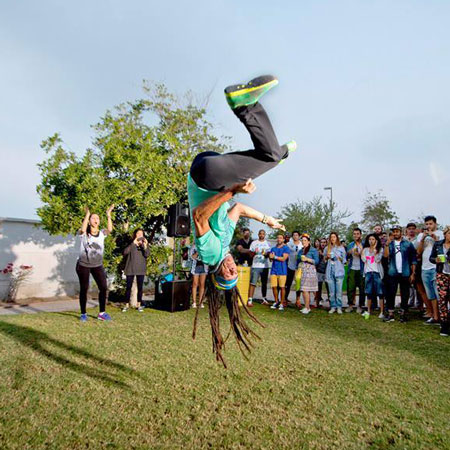 Capoeira Dancers Dubai
Incredible capoeira dancers provide thrilling Brazilian entertainment for all
Cultural show demonstrating the traditional heritage of South America
Professional dancers can also offer capoeira workshops alongside live performance
Ideal for festivals, themed occasions, corporate functions, gala dinners, etc.
Martial arts performers available to hire for events in Dubai and across the UAE
Capoeira Dancers Dubai PHOTOS
Our brilliant capoeira dancers are certain to captivate guests at your special occasion as they provide a fast-paced and exciting cultural show demonstrating the many fascinating forms of Brazilian entertainment. Professional dancers with a wealth of performance experience, these martial arts performers are guaranteed to be a hit with all ages as they put on a highly engaging display that celebrates the rich culture of South America.
Originating in Brazil, this incredible form of martial arts mixes surprisingly graceful attack and defence techniques with dance, acrobatics, and music in order to create an engaging visual spectacle that will transfix audiences from start to finish. Two performers, known as capoeristas, challenge each other in a circle whilst the rest create music on traditional instruments such as the berimbau, pandeiro, caxixi, atabaque and the agogo, with the capoeira dancers' moves guided by the rhythms and beats. 
Our professional dancers promise to make your special occasion stand out above the rest as they showcase their incredible balance, flexibility, strength, and technique through a series of graceful yet powerful moves. An enthralling cultural show that will exhilarate all who watch, this fantastic stage production will bring an authentic piece of Brazilian heritage to your event, with our gifted martial arts performers putting on an incredible demonstration of quick and complex kicks, spins, and punches that are executed with expert precision and fluidity. 
Also able to offer a unique fusion of traditional capoeira with elements of karate and break dance, our artists are sure to impress with their high energy performance, and can even provide capoeira workshops for your guests to participate in. Ideal for festivals, themed events, ceremonies, gala dinners, corporate events and more, our martial arts performers are available to book for events in Dubai and throughout the UAE.
Leading global specialists when it comes to all things entertainment, at Scarlett Entertainment we can supply you with fantastic acts for private and corporate events around the world, with options available to suit all occasions, themes, and budgets. For more information on the Brazilian entertainment choices we can offer, plus much more besides, contact our dedicated team of co-ordinators today.