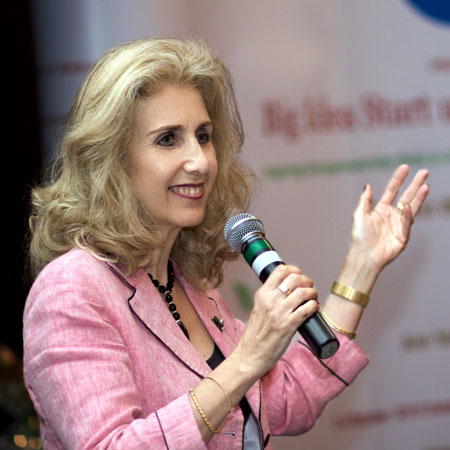 Carole Spiers
Internationally acclaimed motivational speaker
Industry expert on stress and wellbeing
Acknowledged expert on workplace bullying
Previous clients include Accenture, Walt Disney, Emirates Airlines, IBM, Panasonic and many more
Based in the UK and available for events globally
Carole Spiers is a motivational speaker with high energy who is shaping attitudes and altering mindsets. She is the CEO of the Carole Spiers Group, an international stress and wellbeing consultancy. She is a successful speaker in the UK, Europe, Middle East and Globally and a C-Suite business mentor, helping senior Executives to perform well under pressure and communicate effectively. 
Her charismatic style and ability to engage emotionally with audiences has made her a sought-after business speaker working with equal success in the contrasting cultures of the UK, the Middle East and other countries around the world, delivering keynote addresses and master classes at both conferences and seminars.
Carole is a Fellow and Past President of the Professional Speaking Association, London and is currently Chair of the International Stress Management Association (ISMA) UK, a registered mental health charity which works to reduce the stigma associated with stress and mental health. In 1998, Carole, on behalf of ISMA, established National Stress Awareness Day (NSAD), which is ISMA's flagship annual event. In 2017, NSAD was renamed International Stress Awareness Day (INSAD), reflecting its adoption now internationally.
She is also an Expert Witness before the UK court, Carole has an in-depth understanding of the effects of intimidation and bullying behaviour on both the individual and the organisation. She is a popular business columnist and a popular BBC guest-broadcaster. She is also an author of a published book 'Tolley's Managing Stress in the Workplace, together with the bestselling Show Stress Who's Boss!' which is the UK's industry bible on stress management and now being translated also into Arabic.
Carole is in demand for international conferences due to her professional insights, practical advice and proven strategies that listeners can implement immediately. Carole is uniquely placed to advise on the importance of building personal resilience so that businesses can benefit in terms of higher levels of performance and productivity.
Her keynote presentation topics that have changed attitudes and mindsets:
Coping with long-hours, advanced technology, information overload. 
Controlling your tension-levels to build strong mindsets and attitudes.
Build resilience in yourself and your team.  Bouncing back from setbacks
Learning how to be mentally tougher, to manage daily challenges
Changing Times Demand Positive Leadership
Why change is difficult to manage.  How to be mentally tougher.
Empowering teams. Motivate, engage and inspire – carry them with you!
Forging Relationships through Active Listening
Knowing how to listen - an essential factor in business communication.          
Diagnosing tough problems. Diffusing disputes. Conducting interviews.
All presentations can be delivered as a Senior Management Business Briefing (duration one hour), as a Masterclass (half or whole day) or as a one-day interactive workshop.
To book Carole Spiers, contact our team, or discover more of our motivational speakers. 
Al Habib (Oman)
AstraZeneca
Debenhams
Etisalat
Du
Gasco
House of Fraser
IBM
University of the Arts
Accenture
AXA
Commercial Bank of Dubai
Dow Chemicals
Emirates Airlines
Dubai Cables
Givaudan
Macfarlane Packaging
Panasonic
Walt Disney
And many more
Abu Dhabi Marine Operating Company (ADMA-OPCO)
" Carole's innovative keynote presentation on Organisational Change for our Top Team was really an eye-opener, and an ignition to what I call a 'mindset change process'. We all felt thoroughly engaged and involved in this important issue. "

Hayyan Al Habib, Director, Al Habib Group (Oman)
" Carole's dynamic presentation style with real-life examples made the session invaluable. I enjoyed it and learnt a great deal. "

Peter Day, Area Manager, WH Smith Ltd
" Carole's performance was a triumph in every way. Behind her dazzling platform skill, you could spot the signs of the tested professional, as confirmed by her own riveting presentation on change and stress. Throughout two exceptionally full days, Carole was tireless both in radiating her unique charisma and in the discipline of ensuring a smooth, seamless programme. "

Sam Selveraj, CEO, IBN International
" Thank you for delivering an excellent keynote address providing some key insights into stress management. "

Brendan Noonan, Senior Vice President Training and Development, Emirates Airline Group