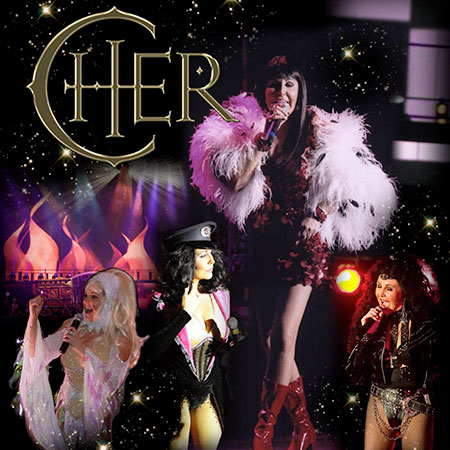 Cher Tribute
Amongst Europe's foremost tribute artists
The only viable alternative to Cher herself!
Spectacular visual and vocal experience
Past clients include the BBC, Coca Cola, the RAF, P&O Cruises, and BT
Based in Manchester and available to perform at events worldwide
Highly regarded in the entertainment industry as one of the very best vocal and visual impersonators, professional Cher tribute artist Paula is a must-have for your next event, delivering a sensational performance every time she takes to the stage!
As one of the best-selling artists of all time, with over 100 million records sold worldwide and the unique achievement of a number one single on a Billboard chart in each of the last 6 decades, Cher is well deserving of her reputation as the Goddess of Pop. With her distinctive contralto singing voice and trendsetting fashion sense, along with hits such as 'Believe' and 'If I Could Turn Back Time', she is definitely a legendary diva.
With incredible attention to detail and an extraordinarily similar voice, Paula really is the next best thing after Cher herself! With up to date exact replicas of all the iconic outfits and an extensive repertoire of all Cher's hits, Paula will blow audiences away with her spectacular performances, and even have them questioning whether they're not actually watching the real deal!
The show can be arranged to fit with your specific requirements, and is certain to make your event one to remember.