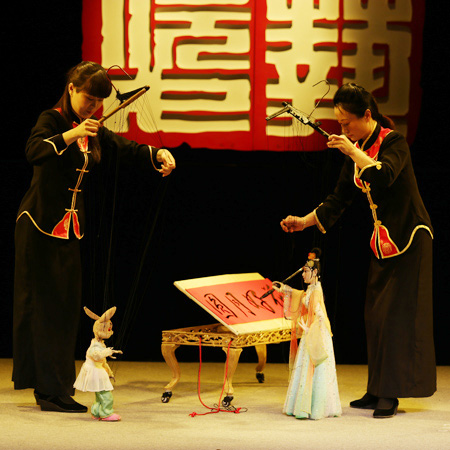 Chinese String Puppet Show
Amazing and captivating traditional Chinese folk art String Puppet Show
You won't believe the things the puppeteers can make the string puppets do
Cultural heritage act with over 2000 years history
Superb children's entertainment for birthday parties also suitable for shopping malls and gala dinners
Available all over China
With over 200 years of history, the traditional Chinese string puppet show has been listed as a national cultural heritage in China since 2006. This Chinese folk art performance generally has no language, is visually exciting and can be enjoyed by any audience anywhere in the world.
The traditional string puppets are carved from wood and brightly coloured. Unlike many puppet shows in western culture, in a Chinese puppet show you see the puppeteers on stage too. You will hardly believe the things the puppeteers can make the string puppets do. It is almost like they bring them to life! From walking, dancing and riding bikes, to eating and writing calligraphy. You can also have an amusing monkey character which is always a kids favourite. Just take a look a the video to see the puppet writing calligraphy. The skill involved from the puppeteers is incredible and will really wow the guests at your event.
The string puppet show is very popular for children's entertainment at birthday parties, celebrations, fetes and cultural events all over China. Available to perform a 20 minute puppet show, the puppeteers will do up to three show a day. Ideal if you have an event with a high number of attendees. Consider the the string puppet show for shopping malls, festivals and anywhere looking from family friendly or children's entertainment.
If you really want to impress the guests at your event don't hesitate in speaking to one of our dedicated team of professionals at Scarlett Entertainment who will be more than happy to assist you in booking this Chinese folk art show!
IDEA ARTICLES RELATED TO Chinese String Puppet Show