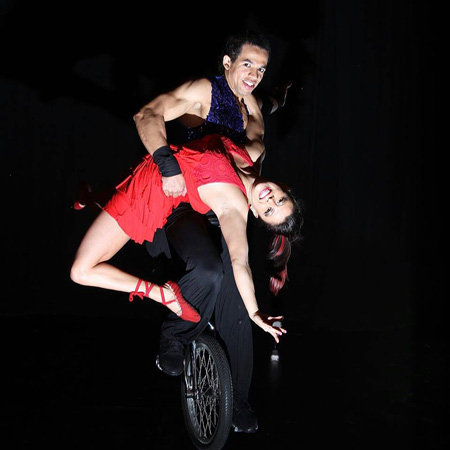 Circus and Trapeze Duo
Death-defying trapeze duo perform wide variety of circus skills
Paired and individual trapeze act will leave audiences gasping
Cyr wheel is impressive spectacle for any space
Gymnastic shows include customisable themes
Dubai-based act available for bookings worldwide
Circus and Trapeze Duo VIDEOS
Circus and Trapeze Duo PHOTOS
Meet our multi-talented circus couple for an amazing trapeze duo, aerial pair and gymnastic twosome. Offering a death-defying trapeze acts with a variety of customisable costumes as well as a  Cyr act and multiple other circus favourites, this couple can provide shows to suit any audience and with a customisable number of skills involved!
The skills of this trapeze duo are seemingly limitless. With hand-balance stunts, gymnastics and martial arts displays, unicycle performance that will genuinely thrill you, juggling and floor acts on top of the staggering high-wire stunts on offer, this is an entire circus in-and-of-itself that will have audiences of any age and nationality crying out for more.
Able to join forces with a larger troupe of circus performers, this duo can perform bigger and better shows that have toured the world and created sensations globally. 
Their skill set can include a high-wire trapeze act that will have your audience holding their breath, a Cyr-wheel performance that impresses by its sheer uniqueness, unicycle, juggling and gymnastic acts that are superb for warming audiences up or for audiences who are only in situ for a brief time (such as shopping mall audiences) and much more besides. Discuss your ambitions for your event and develop something truly unique that your audience will remember forever. 
Their costume options range from the traditional stripes of the traditional Big Top circus to modern takes on circus performance. LED costumes for the Cyr-wheel can be provided. They have done many events where themes such maritime, clowns, cabaret and street have been developed. Their work makes them appropriate for audiences from all over the world, as there are no language barriers, and any age group will be wowed by their skill (kids in particular will be awe-struck!). 
To book our wonderful trapeze duo, contact our dedicated team of entertainment specialists today.