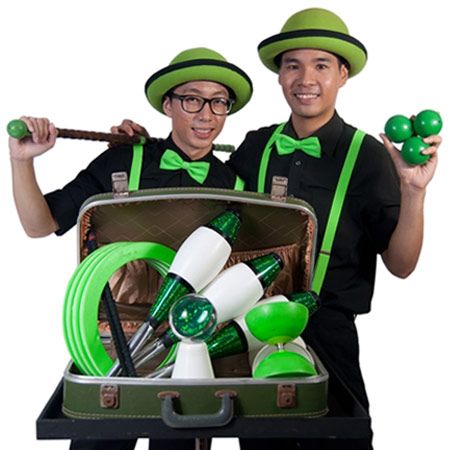 Circus Show Singapore
Combines a variety of entertaining and hilarious circus based acts
A Comedy Duo, Juggling, Diablo, Fire Twirling, Magic shows and more
A fun packed entertainment show, with huge diversity and variety
Perfect for carnivals, corporate events, festivals and parties
Based in Singapore and available to perform at events worldwide
Circus Show Singapore PHOTOS
Circus Show Singapore combines a variety of entertaining circus based acts from a Comedy Duo, Juggling, Diablo, Fire Twirling and much more.
A hilarious comedy duo pack a number of tricks up their sleeves. Their repertoire includes juggling, diablo, comedy miming and silly slapsticks presented to the audience in a lighthearted manner. Look out for the best part of the show, whereby the interesting contact juggling act comes to life in robotic form. There is a hat manipulation act with audience interaction that promises a good laugh while the finale combines juggling knives whilst the performer is perched on top of another's shoulder and promises thrill and that the show ends on a high!
In another show, circus artist Jay performs the world's oldest piece of magic, "The Cups & Balls". Audiences can watch in awe as he makes balls of all sizes appear from his cups, from which he would be using to do his juggling. A game of guessing follows whereby he makes the audience guess where the ball has gone.
Other special features include juggling ping-pong balls using his mouth, and bouncing a ping-pong ball using his mouth faster than you can bounce a basketball. Jay turns from a juggler to a classical musician as he plays classical music using ping-pong balls on the xylophone. Is Jay a juggler, a con man or a musician? Watch the show and you decide. This show has been featured in Bascheradis Festival, Italy.
Integrating comedy in a circus show, Jay also performs with his fast paced ball juggling routine and his signature crystal ball routine where he manipulates crystal balls making them float with haunting beauty. An engaging plate spinning routine with him twisting his arms and rolling his body in weird angles follows.
He then switches to his loud and crazy self, and conjures up a comedy escape act. In his escape act, Jay seems have lubricated hands as he teases the audience and escapes from his wrist shackle held tightly by two brass padlocks with ease. He also leads the audience into clapping louder for him as he balances objects starting as small as his juggling club to a chair! In his grand finale, Jay defies gravity yet again by as he juggles three razor sharp knives perched on top of his Rola Bola tower.
A fun packed entertainment show, with huge diversity and variety. No event would be complete without them!