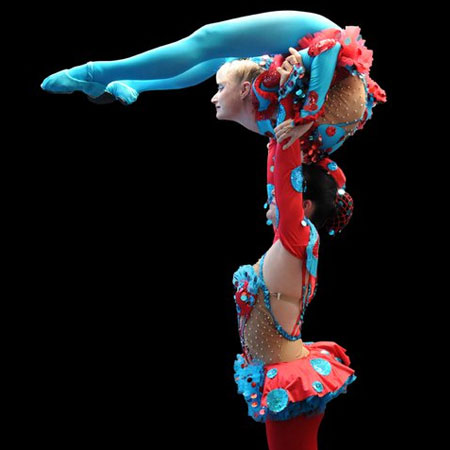 Contortion Acrobatic Duo
Incredible acrobatic & contortionist act will quite simply astound you
With amazing costumes & formidable antics, you won't fail to be impressed
Reached the final of the popular Spanish television show "TU SI QUE VALES"
An ideal novelty act for corporate events, parties, hotels, nightclubs
Based in Spain and available to perform at events worldwide
Contortion Acrobatic Duo PHOTOS
This unique female contortion/acrobatic duo from the UK is entertaining, amusing, original and is suitable for all ages and all nationalities.  This highly experienced and very professional international act is one of the best you will find around the world! In their already successful career, they have travelled to dozens of countries in which they have either performed one of their duet acts or participated as part of larger shows. An ideal novelty act fitted to any type of event.
This incredible Acrobatic and Contortionist Act will quite simply astound you! This is a 10 minute to 30 minute Speciality Show that is perfect for Corporate Events, Parties, Hotels, Casinos, Night Clubs and Cruise Ships.
In January 2012 they reached the final on the popular Spanish television show "TU SI QUE VALES" and also appeared in January on the telecinco tv show "VUEVEME LOCA" with much success.  In July 2012 they made their debut appearance on the Spanish prime time TV show "AVANTI" and in August 2012 they appeared on the hugely popular TV show Salvame on Telecinco. 
With amazing costumes and formidable antics, you won't fail to be impressed!