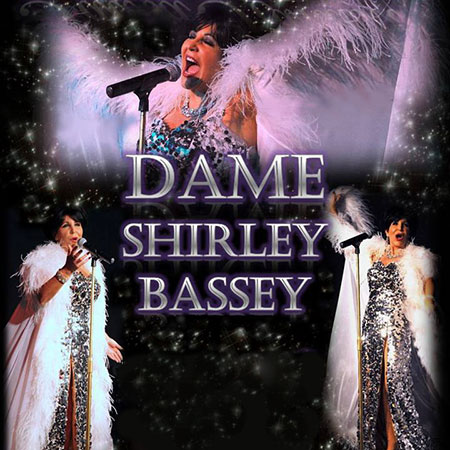 Dame Shirley Bassey Tribute
One of Europe's foremost tribute artists
Amongst the most authentic Dame Shirley Bassey impersonators in the world
Completely immersive visual and vocal experience
Past clients include the BBC, Coca Cola, the RAF, P&O Cruises, and BT
Based in Manchester and available to perform at events worldwide
Dame Shirley Bassey Tribute VIDEOS
Dame Shirley Bassey Tribute PHOTOS
In huge demand all across the world for her fantastic Dame Shirley Bassey tribute show, professional lookalike and impersonator Paula offers the complete package, with both an incredible voice and likeness showcased in every captivating performance.
A truly gifted performer, Paula is the ultimate vocal and visual impersonator, with meticulous attention to detail, true stage artistry and large amounts of charisma all guaranteeing that each performance is a fully entertaining and incredible experience.
Dame Shirley Bassey is of course one of the most beloved and talented ladies in the world of show business today, renowned for singing the sensational theme songs for the James Bond films 'Gold Finger', 'Diamonds Are Forever', and 'Moonraker', as well as classic hits such as 'Big Spender'. A truly dynamic stage presence, she has been delighting audiences with her powerful voice and famous style for over 60 years, and is without a doubt a true legend of the music industry.
Encompassing every aspect of the legendary diva's magnetic performances, personality and style, Paula delivers a tribute show that is as close as you can get to Dame Shirley Bassey without seeing the real thing! With amazing power and intonation, Paula exactly captures Dame Shirley's voice, whilst offering a fantastic visual show through lightning fast costume changes featuring exact replicas of the famously dazzling gowns and glamorous outfits of the Dame herself.
This really is entertainment that you don't want to miss!
Living Tree
History Repeating
I Am What I Am
Diamonds Are Forever
Goldfinger
Big Spender
Kiss Me Honey Honey
S'Wonderful
Nobody Does It Like Me
Lady Is A Tramp
The Joker
As I Love You
What Now My Love
As Long As He Needs Me
Get The Party Started
This Is My Life
If I Never Sing Another Song
Never Never Never
As I Love You
Hey Jude
Light My Fire
Something
New York New York
Yesterday
If You Go Away
You'll Never Know
I Who Have Nothing