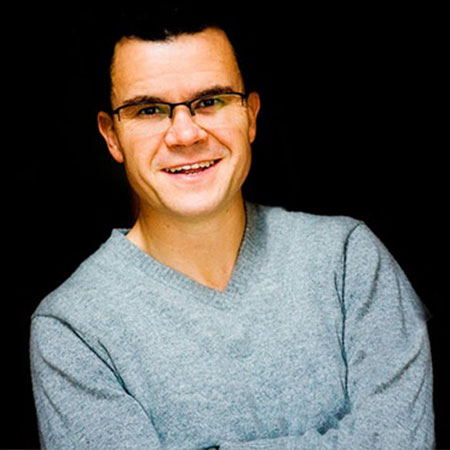 Dominic Holland
Award-winning professional comedian, prolific after-dinner speaker, and events and awards host Dominic Holland is available for worldwide bookings
Former Royal Variety performer, his radio series was awarded a Comic Heritage Award
An accomplished author some of his novels include 'Only in America', 'The Ripple Effect' and 'A Man's Life'
International events experiences in locations such as Paris, Dubai, Prague, Miami and with clients like British Airways, Google and Microsoft
Dominic Holland is available for bookings in the UK and all over the world
Dominic Holland has built for himself a great comedy career. His found his feet in 1991 in a small comedy café in London, and since he has developed into a successful and widely acknowledged comedian. His career has seen him tour around the UK, performing his socially accurate observations and sarcastic stand-up.
He has appeared on many recognisable TV shows including The Royal Variety Performance in the year 2000, Have I got News for You and as a regular panellist on the debate show The Wright Stuff. Dominic has also written and performed several Radio series', including the BBC4 radio success Hollands Shorts and The Small World of Dominic Holland, which obtained such a positive response from listeners that it gained a Comic Heritage Award shortly after its first broadcast in the year 2000.
Dominic has written a number of successful novels, which fuse his love of comedy and writing together. 'Only in America', 'The Ripple Effect', 'A Man's Life', 'How Tom Holland Eclipsed his Dad', and 'Open Links'.
Whilst working tirelessly on his comedy and writing career, this multi award-winning professional coemdian has also established himself in the business entertainment sector where he has created a reputation as one of the greatest event and awards host and presenter for conferences. He has hosted three day conferences for BUPA, ICELAND and MAZDA along with award ceremonies for: The Building Awards, Product of the Year Awards and The Nikon Press Awards.
As an after dinner speaker, he has also branched out into various other areas of speaking including after dinner appearances. His confidence on stage as an after dinner speaker has seen him gain international events experience in locations such as Paris, Dubai, Prague and Miami, speaking for the likes of Ford, Mercedes-Benz, Microsoft and Google.
If you would like to book Dominic Cooper as an after dinner speaker or events and awards host, then don't hesitate to get in touch with us today and make an enquiry. Our Entertainment Experts will be delighted to provide further details on this award-winning professional comedian and assist you in the booking process.
Aegon
Associated News
BMA
BUPA
Bankhall
British Airways
Canon UK
Corals
Dulux
Google
Hyundai
Iceland
John Lewis
Land Securities
Makita UK
Mercedes Benz
Mitie
News on the Block
Nissan UK
Pattonair
RA
Sainsbury
Scottish Life
Sternberg Clark
The AA
Uhlmann
Waitrose
Wickes
ARC
Asda
B&Q The Professional Footballers Association
BP
Bank of Scotland
Barclays
British Gas
Cineworld
Deloitte
Ford
HBOS
ISPA
Jaguar Range Rover
Land Securities
Lexis Nexis
Melon
Microsoft
National Power
Nikon
PWC
Powergen
RBS
Schroders
Sesame Group
Tesco
The Guardian
WH Smiths
Welcome Break
Access Group
" We so enjoyed your performance at the British Bakery Awards and particularly how you tailored your act to the audience so specifically. A lot of effort goes in to these evenings and having such a professional host is really essential "

Sainsbury Supermarkets
" I was near the front during his set and there was certainly lots of laughter at our end of the room but I had reports from the back of the room that he went down well there too! "

South Coast Business Awards
" Very intelligent comic who kept the audience thoroughly entertained with his observations on every day life and self deprecation "

Chateau Impney
" Many colleagues in the 600+ audience congratulated me on the choice of entertainment. Sharp, quick and clever. I think you caught the mood perfectly "

Deloitte Partners Dinner, The Great Room, Grosvenor House
" Superb performance at the Nikon Press Awards. I am getting such good feedback from our guests as we can be a cynical bunch, but you certainly won us over and it makes the organiser's life so much less stressful when the celebrity host is so professional "

The Nikon Press Awards, The Brewery, London