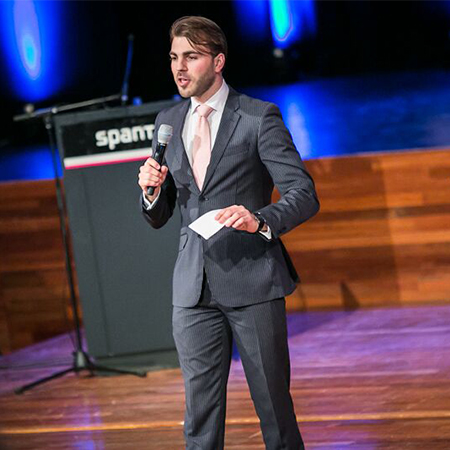 Dutch Moderator & Event Host
Bilingual Dutch presenter has been a conference and event facilitator for over 10 years
Favourite topics include corporate governance, new economy, sustainability, philosophy, politics and Science
Fluent in both Dutch and English, he perfectly communicated in both languages and also understands French
Confident and resolute, he turns every debate into an open clash of ideas
This Dutch Moderator and Event Host is available for events in Holland and worldwide
Dutch Moderator & Event Host VIDEOS
Dutch Moderator & Event Host PHOTOS
Experienced Dutch Moderator and Event Host has been moderating debates, conferences and meetings such as stakeholder dialogues for over a decade and for both small and big audiences. 
Dutch and English: a bilingual event host 
Fluent in both Dutch and English, he perfectly communicated in both languages and also understands French. Awarded by the Dutch meeting industry as 'Most Talented Moderator' in 2013, this bilingual Dutch presenter graduates degrees with a degree in International Business.
Having hosted and moderated numerous events and conferences both in the Netherlands and in countries such as Saudi Arabia, this experienced emcee and moderator will ensure your event runs smoothly. 
As a moderator, he encourages participation with an engaging speech, a natural approach and interesting questions. His engaging presenting style comes from his genuine interest in the topics to discuss. 
Favourite topics for debates 
Very attentive-to-detail, this con who listens attentively, this conference and event facilitator knows how to digest complex concepts and asks questions that add value. Confident and resolute, he turns every debate into an open clash of ideas. A creative public speaker, he highly enjoys working closely with event planners to tailor meeting formats to stakeholders' objectives. 
This conference and event facilitator's favourite topics include: 
Corporate governance
New economy
Sustainability
Philosophy
Politics and Science
Find your perfect event host
If you would like to find out more about Dutch Moderator and Event Host, get in touch today and check his availability for your next event. 
For further information on the benefits of hiring multi-lingual hosts, make sure you explore our Ideas Blog