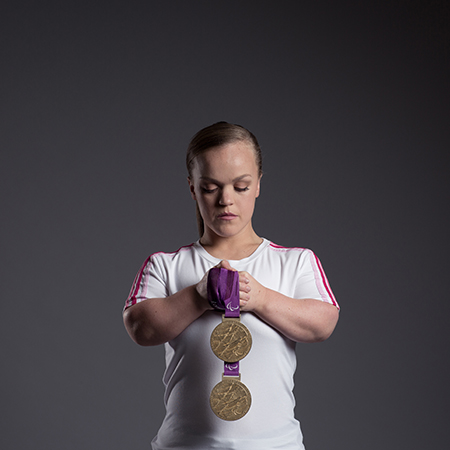 Ellie Simmonds
This British Paralympian swimmer delivers inspirational talks related to sports and self-improvement
A five-time Paralympic champion, Ellie is one of the best known Paralympic athletes in the world
This multiple record holder is the youngest person who has been awarded with an MBE at the age of 14
Can deliver cusotmised speeches and inspire audiences with her captivating story and meteoric career
Ellie Simmonds is available for bookings in the UK and worldwide
The British golden girl Ellie Simmonds can be booked to deliver inspirational speeches at events worldwide. A five-time Paralympic champion, this elite athlete and sports motivational speaker gained great popularity when she won her first medal when she was 13.
From there, her rise has been meteoric. Some of the numerous awards and medals she has won during her fruitful career include 13 World titles, 10 European titles and other achievements such as four medals at the London 2012 Paralympic Games, two of which were gold medals. On top of that, this popular British paralympian swimmer was the poster girl for the 2012 Paralympics. All that added to her sporting achievements during the competition made her the most recognsied Paralympic athlete in Great Britain and one of the best known in the world.
This elite freestyle swimmer's disability is known as Achondroplasia. She started showing interest in swimming when she was five and started competing against able-bodied kids when she was eight years old. At the age of 10, Ellie entered onto the British Swimming talent programme and, since then, this British Paralympian swimmer has been competing in both national and international championships. Other major achievements include one gold and one bronze medal at Rio Paralympics.
Her outstanding trajectory and her story have captivated the British public, turning her into a sports motivational speaker. She can be booked to deliver inspirational speeches at international events. Always speaking from her heart, this popular inspirational speaker always captivate audiences with her self-overcoming spirit and her story of struggle and perseverance.
A multiple record holder, Ellie is the youngest winner of the BBC Young Sports Personality of the Year, recognition she received in 2008. She is also the youngest person who has been awarded with an MBE, a medal she received at the age of 14.
If you would like to check Ellie Simmonds availability for your event or conference, contact our team of experts today and make an enquiry. They will be delighted to provide more details about this popular inspirational speaker and assist you in the booking process.