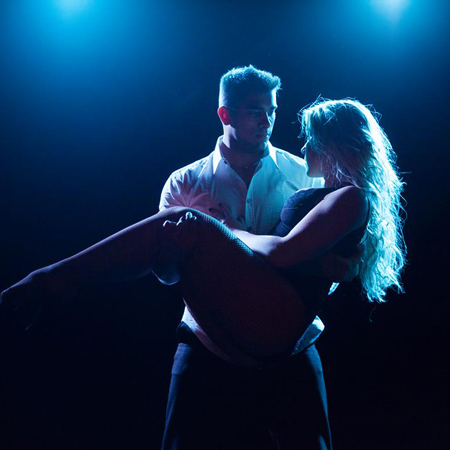 Emotive Acrobatic Dance Duo
Passionate and stunning dance act will captivate audiences
Sensational acrobatic dance duo perform jaw dropping lifts and balances
Evocative and beautiful acrobatic dance tells a powerful story of love and separation
Fantastic dance duo have performed in over 43 counties worldwide on cruise ships and at variety shows, galas and dinner parties
Extraordinary dancers available for performances worldwide
Book this stunning acrobatic dance duo for a powerful and passionate show that's sure to resonate with audiences anywhere. This acrobatic dance performance is a stunning and intimate expression of love and separation told through a beautiful and flowing dance routine full of emotion. Our dance duo perform a breath taking display of acrobatics and lifts to create a spectacular show full of expressive choreography and wow-factor moments any audience will be impressed by.
Our exquisite dancers have performed all over the world, dazzling audiences on cruise ships and in variety shows, galas and dinner parties in 43 countries. Bok this passionate and sensual dance act for your event and experience a one of a kind performance your guests will never forget.
This acrobatic dance duo wrote this beautiful acrobatic dance to tell their own story of their struggle to be together despite living in separate countries. This passionate dance act tells this heartbreaking story of separation, love and unity through stunning dance choreography and the touching chemistry between the two dancers. Our dance duo performs breath-taking balances and lifts in an incredible display of strength and skill that will have any audience captivated. 
Our amazing acrobatic dance duo have amazed audiences with their sensual and highly emotive routine in 43 countries all over the world and their graceful, elegant dancing and magnetic stage presence ensure they will make a welcome addition to any event. Our incredible dance duo have won the hearts aof audiences at variety shows, New Years parties and performances in Lebanon, Switzerland, Germany, Sweden, Italy and all over the globe.
This mesmerising and heart wrenching dance act is not to be missed.
Scarlett Entertainment offers you a brilliant range of stunning acrobatic dance acts for events worldwide.
Contact us to arrange booking our fabulous acts.
TV-show Norske Talenter Norway
City Festival Germany
Variety show Hansa Theatre Hamburg Germany
Gala Monte Carlo
Cruise Ship MSC
La Folie Rouge Eventohem Lebanon
Variety show Bochum Germany
Gala Company Event Hannover Germany
Gala GOP Saarbrücken Germany
Variety show Krystallpalast Leipzig
Circus Huberti Germany
" I can heartily recommend her to everyone who needs a highly agreeable, passionate and reliable team player in his company. 

I hope that she will work one day for me again and I wish her for her personal future all the best. "

Adrian Mathias, Artistic Director