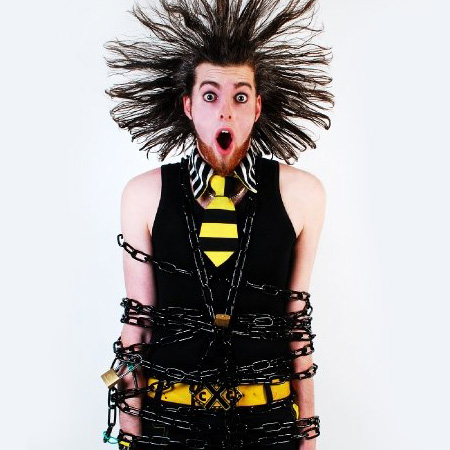 Escapologist-Chris
Critically acclaimed Comedy Contortionist & Escapologist
One of the top Cabaret & Street performers in the UK
Performed around the world inc New York to Dubai
High profile clients inc Royalty and Global brands
Based in London and available to perform worldwide
Escapologist-Chris PHOTOS
Chris is a Stand-Up Comedy Contortionist & Escapologist and is one of the TOP Cabaret & Street performers in the UK. A 5-Star Critically Acclaimed Show that has been performed Worldwide - Suitable for all ages, events and occasions whether it be indoors or out!  Chris is A Popular Choice for Many Corporate Events Worldwide: From London to Dubai, Paris to Bahrain, Athens to Amsterdam, New Zealand to New York!
He has been booked Worldwide by some of the Biggest Corporate names in the World:
Virgin, Exxon Mobil, Microsoft, Diesel Dubai, Thomson, Etc.
Delivering a Show to the specific tailored needs of the booking – whether it is a Product Launch, Promotional Stunt, Advertisement, Launch or the annual AGM, Xmas Party or suchlike - EVEN Customized Escapes and Stunts can be designed featuring YOUR Product, Branding, Logo, Etc if desired!
Booked by The Bahrain International Formula One to Entertain the Prince of Bahrain and his people…
Semi-Finalist in Greece's Got Talent on Primetime Greek TV with 2 BIG Escapology TV Stunts
Featured on Britain's Got Talent TV Show in the UK
Booked by The World Buskers Festival in Christchurch NZ in 2010 (One of the most prestigious street performance festivals in the WORLD!)
Compering at the Infamous 'Slipper Room' in New York City Hosting an entire evening!
Hosting/Compering at Monday Night Tease off Hollywood Blvd in LA
Featured Male in a Burlesque Valentine's Run of Shows at Le China Venue in Paris
Lots of Music/Arts Festivals including: Glastonbury The Big Chill Kendal Calling Etc.
5 Star Show awarded a 'Must See Show' Title by The Stage Magazine at the Edinburgh Fringe Festival where Chris has performed his One man Show there over the last 4 consecutive years…
Artistic Director of 'The Carny Cabaret Show' which had residency for 6months at Madame Jojo's SOHO in London's West End
Previous Corporate Clients Include:
Virgin Atlantic
Exxon Mobil
Harvey Nichols
THREE Mobile
Entertaining at Prince Harry's Xmas Party in the UK (the only entertainer booked for a very prestigious party of only 17 people in a dining room!)
DIESEL Clothing Dubai
Thomson Platinum
LEXUS
John Lewis
AA
" Thank-you Very Much for your Entertainment. It was Very, Very Good and a Pleasure for me to have Watched. I Enjoyed your Talent, Thank-You… "

The Prince of Bahrain
" That was SO Amazing! I'm really impressed! I Love you – you're my Favourite! "

Gemma Arterton (St.Trinians - Head Girl, James Bond: Quantum of Solace, Song for Marion, Etc)
" Awwwwww Man – This guy Freaked me Out! One of the Weirdest things I've seen in a long time! He's Funny though and I thoroughly Enjoyed his Whole Act whilst onstage with me at the Press Party for Hard Rock Calling 2011 "

Alice Cooper (World Famous Rockstar: 'School's Out for the Summer', 'Feed my Frankenstein'..)
" I Love Magic but those tricks right there were Sick! I've seen a lot of Magicians and none of them did that Bro! Really Cool Sleight of Hand and so Quick – Wicked! "

Tinie Tempah (Chart Topper: 'Passout', 'Written in the Stars'..)
" Having Chris support me at The Newcastle City Hall was Great, he got the Crowd Alive and Ready to Rock with his Outstanding Showmanship, Skills and Shining Cheeky Charisma. He is very good at what he does…! "

Bonnie Tyler (80's Chart-topper: Hero, Total Eclipse of the Heart and more)
" Thanks for being at my 50th Birthday Celebrations, the Tricks are going down a treat! "

Boy George (80's Chart-topper and frontman of The Culture Club: Karma-Khameleon, Do You Really Want to Hurt Me, Etc)
" Scary! Those arms aren't supposed to do that! That's Weird, even by my Standards man! "

Sir Terry Pratchett (The Most Surreal Author in the World!)
" Kid the Tricks are Great! "

David Hassellhoff (TV Superstar of Knightrider, Baywatch, American Idol, Etc)
" Eye-popping and Hilarious in Equal Measure, Chris is One TWISTED Mister "

Alexander Milas (Editor, Metal Hammer)
" We spotted Chris Cross and his own brand of contortion on Myspace; It freaked us out enough that we decided to promote him all over the site. We wish him the best of luck wierding out crowds across the nation! "

MySpace.Com
" If there was an award for 'Funniest Act of the Weekend', it would have to go to comedian, contortionist and escapologist Chris who could win awards for funniest act of ANY weekend. The multi-talented Geordie brought his act to the middle of a field, literally, on Saturday afternoon and after starting out performing to a handful, had pulled an audience of several hundred by the time he finished…It's difficult to say whether he's primarily a contortionist who uses comedy or a comedian who uses dislocating his shoulders as an act. Chris has a natural, easy style (not to be mistaken for unrehearsed) and builds a rapport with an audience with the ease of someone whose been performing much longer than his age (21) would suggest. He has one liners and put downs a plenty and isn't afraid of challenging anyone within a 50 yard radius of his show - this is real street performing art at its best.He performs several contorting tricks that involve dislocating his shoulders and get increasingly stomach churning as the show progresses. Using your own arms as skipping ropes is both impressive and nauseating at the same time and he finishes with an escape from a straight-jacket just as the audience count down to one. Contortion and escapology might seem a bit like a Saturday evening end of pier show. Until you've seen how well Chris does it, don't be fooled. "

eFestivals.Com Review by Phil Adcroft (Kendal Calling Festival – Summer 2010)
" Chris is a contortionist and escapologist - I seem to remember a few freaky tricks involving dislocated shoulders and a strait-jacket in there somewhere - but his real skill is in creating an atmosphere of complete lunacy which infects your mind and leaves you questioning wether then sane world really exists.To say he is a natural showman is a gross understatement - the 19 year old has already been a street performer for a decade and appeared on Britain's Got Talent, and can handle an audience like a piece of putty. His body bending stunts merely provide a vehicle for a comedy act that's as slick as it is screwball, delivered in an outrageous, Russell Brand-esque persona. An hour later his audience stumbled back upstairs from the cellar, some of them vowing never to speak of what had happened. "

The Stage Magazine (Leading Entertainment Magazine Review by Nuala Calvi - Edinburgh Festival Show)