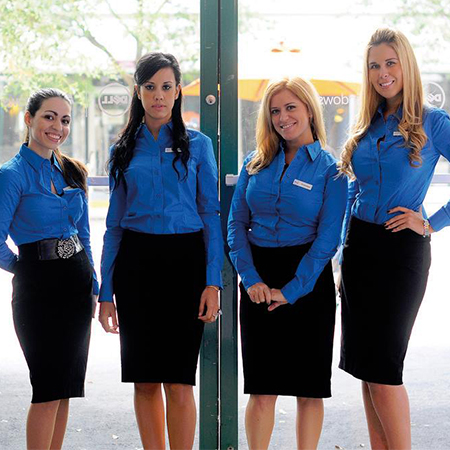 Event Hostesses Spain
Friendly, versatile and experienced event hosts and hostesses will guarantee your event runs smoothly
Multi-lingual team of hostesses can speak various languages and communicate with international guests
Event staff can wear branded clothing, lead guests to their seats, pose for photos, hand out samples of products, etc.
Ideal for street marketing campaigns, our hosts and hostesses can ride bicycles or segways with branding incorporated
Previous clients include El Corte Ingles, Gaes, Hipercor, Lidl, Orange, Movistar, Alain Afflelou, and many more!
Event Hostesses Spain PHOTOS
If you're looking for event hosts and hostesses for your next congress, trade fair or product launch in Spain, then look no further. This multi-lingual team of male and female hosts can speak various languages and has a wealth of experience working at events both big and small across Spain. 
Friendly, experienced and multi-lingual
With numerous hosts and hostesses to choose from, you can rest assure every single one of our staff members is reliable and professional. This multi-lingual team can offer various hosts and hostesses fluent in various languages other than Spanish. 
Friendly and always willing to be of assistance, they can welcome guests at your event, lead them to their seats, answer questions, hand out samples of products, pose for photos, and more! 
Branding options and previous clients 
Having provided event staff for numerous events across the country, our event hostesses in Spain can name brands such as El Corte Ingles, Gaes, Hipercor, Lidl, Orange, Movistar and Alain Afflelou among their previous clients. 
Boasting experience in both events and street marketing, our hosts and hostesses have been trusted by numerous brands to become their brand ambassadors for a day. On top of a segway or riding a bicycle that can be fully branded for the occasion, they can scout the streets of your city promoting your new product or service. 
Happy to wear branded clothing, our event staff can wear uniforms or any t-shirt, hoodie or accessories with your logo or the name of your business. 
Hire Event Hostesses in Spain 
If you would like to request a quote, get in touch with us today. Our Entertainment Specialists will be happy to guide you through the booking process.