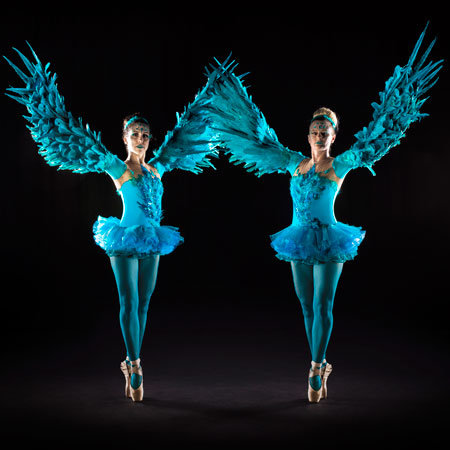 Feathered Wings Ballet
Our Feathered Wings Ballet is a mesmerising, highly visual and unique ballet show
Our ballerinas dance en pointe in unison with large feathered wings creating a beautiful and unique visual display
Inspired by the Swan Lake, this dance show entertainment has a traditional and classical feel with contemporary edge
Exquisite choreography can be tailored to suit your event and venue
Based in London, UK, our ballet dancers are available for international bookings
Feathered Wings Ballet PHOTOS
Dancing exquisite choreography, our Feathered Wings Ballet dancers perform a highly visual and unique ballet show. 
Perfect for a whole host of events, this dance show entertainment is sure to mesmerise, enchant and delight audiences. A stunning option for gala dinners, corporate entertainment, awards ceremonies, charity balls, private parties, grand openings and more, our ballerinas for events are practised performers and highly skilled dancers. 
Dressed in classical tulle tutus adorned with glinting crystal, feathers and ruffles in a striking deep blue, our ballet dancers are transformed into bird-like creatures inspired by the iconic Swan Lake. Their avant-garde costumes are completed by large feathered wings, which move gracefully with every arm movement.
Our ballerinas dance en pointe in unison with their large feathered wings creating a beautiful and unique visual display. Able to choreograph bespoke performances, create tailored shows to suit the exact needs of your event and venue. 
Our beautiful ballerinas for events also make wonderful photo opportunities for guests in their stunning costumes, and can even act as meet and greet entertainment, as well as providing elegant ambient entertainment about your venue. Have our ballet dancers perform elegant poses as stationary living décor for a beautiful effect as guests drink, chat and mingle.
Scarlett Entertainment offers a huge range of ballerinas for events and occasions in the UK, Europe, US, Middle East and beyond. Discover our roster of dance show entertainment from ballet shows and belly dancers to LED and flash mobs for further inspiration. 
To book our Feathered Wings Ballet and create an air of grace and mystery at your next special event, get in touch with our team of Entertainment Experts who will be happy to advise on all of your ballet show needs.