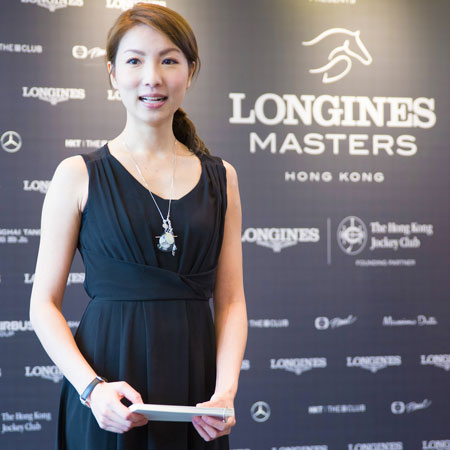 Female Event Emcee Hong Kong
Trilingual emcee fluent in English, Mandarin and Cantonese
Presents on TV and a voice over artist
Her appearance and presentation always reflects professional standards
Helps her clients by injecting events with energy and enthusiasm
Makes the brand, message and story remarkable encouraging it to be retold and publicised
Our Female Emcee based in Hong Kong, is a versatile and talented Emcee and event host who is in high demand, as well as being sought after for her TV Show Hosting and Voiceover Artist abilities. Having grown up in Canada, and worked in Taiwan before relocating to Hong Kong, she is fluent in English, Mandarin, and Cantonese. She has the distinct advantage of being able to instantly connect with a global audience.
This female emcee has a broad range of experience which includes working with global icons such as DHL, Canon, IBM, Manchester United, Panasonic, Fujitsu, Shell, and Blackberry (among others), as well as with Asia-based organisations who are looking for quality media exposure. Those organisations include such as the Hong Kong Government, Chow Sang Sang, Chow Tai Fook, and the Hong Kong Jockey Club, for example.
In addition to presenting on TV, and being a voice over artist, she is also a sports commentator, a corporate coach/trainer (via corporate workshops or one-to-one counselling), as well as putting her language skills to good effect in translating and writing scripts.
Her flexibility extends well beyond language and work type. As demonstrated by her portfolio gallery, she is also very adept at adjusting her style to any occasion or need, whether that be elegant, sporty, chic, professional, semi-formal, high fashion or feminine. It goes without saying that her appearance and presentation always reflects the highest of professional standards.
How our Hong Kong based emcee helps her clients:
Tell their story and communicate their message in the most appropriate manner
Make events easy to digest and enjoyable for the audience
Injects events with energy and enthusiasm; and
Makes their brand, message, or story memorable, encouraging it to be retold, and publicised 
How She Does It:
Her presentations are always very accessible and personable
She utilizes a number of performance and presentation styles that can range from "formal media interview" to "annual dinner fun", depending on the context
Tasteful humour is used throughout, if and when appropriate
She possesses the ability to improvise in different situations and being able to think on the spot. This vital quality is essential when working in a live environment
As a Mistress of Ceremonies, she makes the speakers and guests feel at ease when they are speaking, which in turn enables the audience to relax and enjoy the event
To book the versatile event host, contact our team at Scarlett Entertainment
C All Star
Channel V
DHL
HKJC College
Hong Kong Jockey Club
IBM
Leightons
Panasonic
Scania
Sino Group
Towngas
方力申
鍾舒曼
Ageas
Canon
Computer World
Fiji airways
Hong Kong Business Magazine
Howard McCary
ITV Choice
Mikael Silvestre
Paul Parker
Shell
Tesla
佘詩曼
胡杏兒
陳慧琳
Blackberry
" She consistently delivered great results when hosting any event. She was able to manage a diverse group of audience facing even the most difficult event, and anyone who ever attended her events have the best to say about her. I strongly recommend her for anyone looking for a master of ceremony. "

Cora Tang (Account Manager at the Next Mobile Ltd)
" I recommended her as an emcee for an award presentation ceremony and the results where fantastic. Fluent in English, Cantonese and Mandarin, she makes a great emcee for a large range of events in Hong Kong. "

Gloria Fung (Managing director at The Peak)