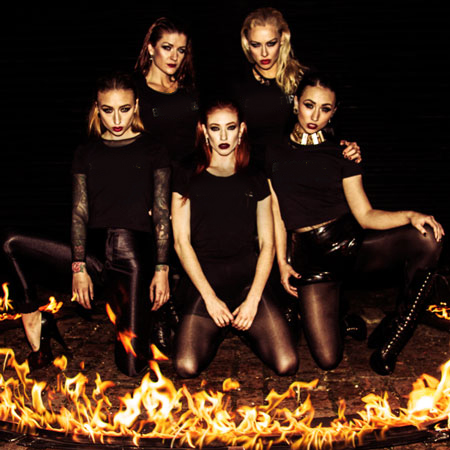 Female Fire Dancers
Sensational, sassy and skilled high quality fire performances with a diverse collection of fire acts
Fully bespoke and customisable routines to suit venues, briefs and themes
Previous clients include ITV, Top Gear, Rimmel London, and Festival De Cannes
Suitable for private parties right through to huge arena shows
Based in London and available for international events
Female Fire Dancers PHOTOS
An incredible and exhilarating show stopping fire performance that is guaranteed to bring the WOW factor to any event. The female fire dancers are a highly praised, incredibly professional collective of fire entertainers who prove high octane customisable shows tailored to exceed expectations of the spectator.
The female fire dancers are stunning and hugely talented sassy and edgy looking fire entertainers dressed in cheeky but sophisticated black costumes. The costumes and girls alone are enough to captivate an audience's attention. When it comes to fire entertainment, the female fire dancers are the best in their field. With an almost unlimited array of props such as poi, rings, canes, swords, whips, crowns, staffs, fans as well as countless other incredible fire acts, if it's a flame-based show or adrenaline heavy fire entertainment you're after, these fire performers are miles ahead of their competitors.
The fire performances are completely bespoke and unique to each and every booking. The fire entertainers will tailor their routine or fire acts to suit suit venues, briefs and themes. This kind of highly professional and very personal approach means that clients receive a totally one of a kind fire performance that is unique to their event.   
The female fire dancers' fire acts have wowed audiences all over the world at destinations such as Seychelles, Qatar, Cannes, Los Angeles, Saudi Arabia, Austria, Albania, Croatia and Dubai. They have extensive experience delivering high calibre fire acts for arena shows, sporting events festivals, televisions shows and private parties. Previous booking have come from the likes of ITV, Formula 1, Top Gear, Rimmel London, Top Shop, Festival De Cannes and The Gadget Show.
Top Tip:
The sensational dancers are also as the Fuel Girls available for 'hotter' event types.
The female fire dancers are some of the most visually exciting, customisable and professional fire performers in the business. If you would like to book exceptional fire entertainment for your event, contact our team of experts at Scarlett Entertainment.
Festival De Cannes
ITV
Monster Energy
The Gadget Show
Top Shop
Addison Lee
Formula 1
Masters Of Dirt
Rommel London
Top Gear
Diesel
" Having worked with numerous fire and pyrotechnic performers there is no one better than these. Their professionalism and health and safety is exemplary while providing a spectacular performance each and every time "

Jen Townsend Live FX Ltd
" Just to let you know the girls were incredible, everyone LOVED them!! They did a fantastic job and hopefully we will be able to work with you guys again! "

Diesel Clothing