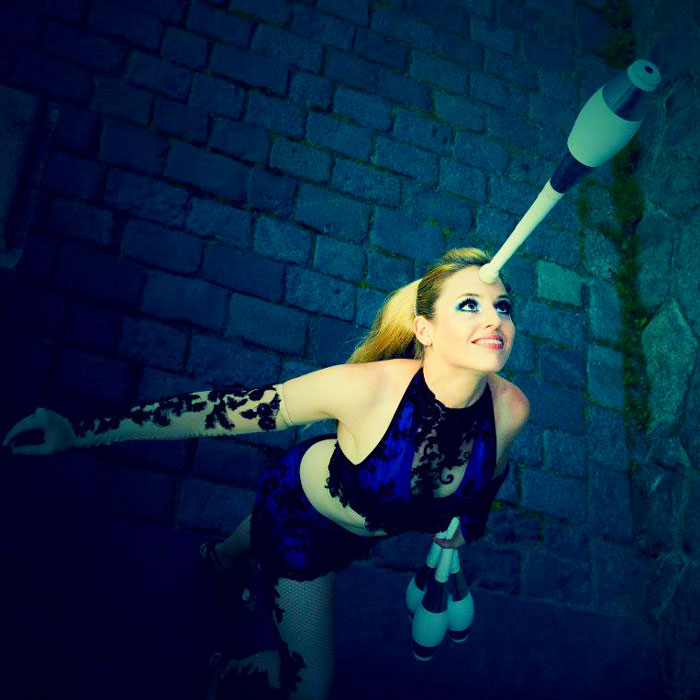 Female Juggler and Hula Hoop
Superb and very versatile Female Juggler and Hula Hoop performer
Multiskilled circus performer will create a show tailored to your event
Performed with the esteemed Ringling Brothers and Barnum & Bailey Circus
International travelled performer has experience in all sectors
Based in Prague , Czech Republic and available for events all over the world
Female Juggler and Hula Hoop PHOTOS
Our Superb Female Juggler and Hula Hoop performer is an incredible multiskilled circus performer who can wow your guests with a short, sharp routine guaranteed to send them in a spin. 
This extremely versatile Female Juggler and Hula Hoop act can be tailored to a wide variety of events and clients. The circus performer offers a hula hoop act as well as a variety of juggling with clubs, large balls and even LED clubs, these provide a real wow factor when the lights are off. 
Coming from a family of circus performers, our female juggler began her career aged just seven with two of her siblings. They performed shows all over Europe including Circus Maximum, Finlandia, Merano, Nock, as well as amusement parks, such as Hansa, Europa park and Geiselwind. As a solo Female Juggler and Hula Hoop act, he spent three years in America with the highly esteemed Ringling Brothers and Barnum & Bailey Circus. 
This sensational female juggler has a variety of elegant and showbiz-worthy costumes for a variety of different events. She has costumes to suit a roaring 20s theme right through to contemporary circus. 
If you would like to find out more about our Female Juggler and Hula Hoop act, or book her for your event, please contact our team of Entertainment Specialists.