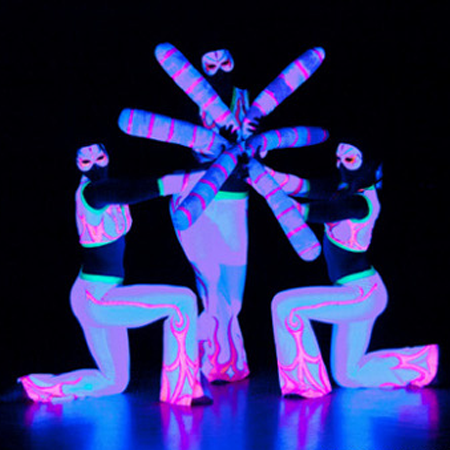 Fire and Light Show
Fantastic choreographed Fire and UV Light show - Highly recommended
Shows inc Dance, acrobatics, juggling with fire & blacklighting effects
Available for corporate events, private parties and festivals
Previous clients include Porsche, Siemens, Ford, Bank Austria...
Based in Vienna, Austria and available to perform worldwide
Fire and Light Show PHOTOS
This act are young artists who let shine every event in a brilliant light!  They paint wonderful pictures into the darkness, bend their bodies like contortionists and play with fire! 
Dance, acrobatics, juggling with fire and blacklighting effects are the main elements of their exciting performances which are appropriate for: corporate events, festivals, opening days, presentations of products, town festivals, Middle Ages festivals, discos, private and business parties, ...
Their fire and blacklight shows can be booked separate or combined, last up to 40 minutes and can take place indoor or outdoor. 
UV SHOWS
With their blacklight show you are taken away into a world of illusions in which shadows start to glow and you are enchanted by the play of colours of the magical pictures painted into the darkness.
In glowing outfits they are winding themselves around your visual sense.
Standard blacklight shows last between 10 and 15 minutes and can be booked in electronic and progressive trance music. 
FIRESHOWS 
The beginning is FIRE is the end - between time is burning!
The powerful energy is the beginning of the light and creates mythical associations.
Their 'dance with the fire' kindles in you a fire of enthusiasm through the harmonic ensemble playing of juggling, dance and acrobatics!
Standard fire shows last between 10 and 25 minutes and can be booked in electronic, Ethno, Celtic, Irish and music of the Middle Ages.
A1 Mobilkom Austria
Amira Air
Fernwärme Wien
Casino Baden & Casino Salzburg
Galaabend der Österr. Sportjournalisten
Schiweltcuprennen Semmering und Hinterstoder
Kunsthalle Krems
Messe Wien
NÖ Werbung
OCÉ Schweiz
Raiffeisen IT
Burgtheaterball Wien 2011
Adventmarkt Mariazell
Art Event Wolkersdorf 2006/07/08
ÖHV- Hotelierkongress 2009 im Schlosshotel Velden am Wörthersee
Internationales Badener Gauklerspektakel 2005/06/07
Murenschalkfestival Bruck/Mur 20008/09/10/11
Super Circus Festival
Red Rose Lounge - Tulln
Porsche
Bank Austria
Mondi
Mölnlycke Health Care
"Schlußfeier Torino 2006" des Swiss Olympic Teams in Bern
Generali Open Kitzbühel
SPA LINSBERG ASIA - World Gourmet Festival
Messe Wieselburg
Let´s Dance Ball Brucknerhaus Linz
Lifeball Après
Ford
Voestalpine
NÖ Landesaustellung
Brocade Partner Night 2009&2010
Sonnwendfeier Tulln 2005/06/07
Straßenkunstfestival "Bamberg zaubert" 2006/07/08/10/11
Pflasterspektakel in Linz 2007/09/11
Streetlife Festival in München
Campus Night - Museumsquartier Wien
Siemens