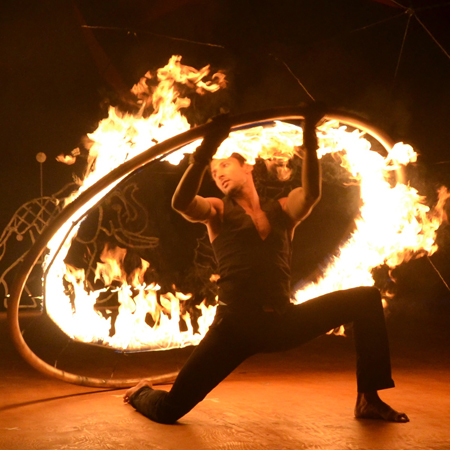 Fire Dance Acts France
Full scale fire acts creating a truly spectacular visual spectacle, as a solo, duo or quartet
Elegant, poetic.dance-based and action oacked theatrical dance and fire show entertainment
Object manipulation, full-body movement and compelling stage presence
Pyrotechnics and fire effects bring the WOW factor to both indoor and outdoor events
Based in France and available to perform at events worldwide
Fire Dance Acts France PHOTOS
Fire Dance Acts based in France is a feast for the eyes, a true visual spectacle that audiences will be talking about for years afterwards!
Lead performer Srikanta is an Ex Cirque du Soleil Fire Dancer and Coach who has been creating spectacular fire dance shows for 15 years. Each fire act has been optomised for corporate events with each show lasting between 5 and 15 minutes. Longer shows can also be organised as this act will create bespoke shows tailored to your event. 
As a true leader in this amazing art form, Srikanta's passion lies in fusing object manipulation with dance and compelling stage presence.
This dance-based approach and theatrical presentation sets these fire shows apart from the rest. Pyrotechnics can be added for the ultimate finale, truly putting this act in a league of its own.
This is an act designed to inspire and amaze audiences. Fire Dance Acts France are the ideal entertainment option for those looking for serious 'wow factor'. Perfect for product launches, event openings, corporate functions and private parties where clients want to create a unique visual spectacle and a lasting impression for guests!
To book this act, contact our wonderful team of coordinators today and make an enquiry.
Samsung
Club Ultimate
LNH
And Many More
Sony
Blackberry
Cirque Du Soleil
Simon Youth Foundation
Adobe