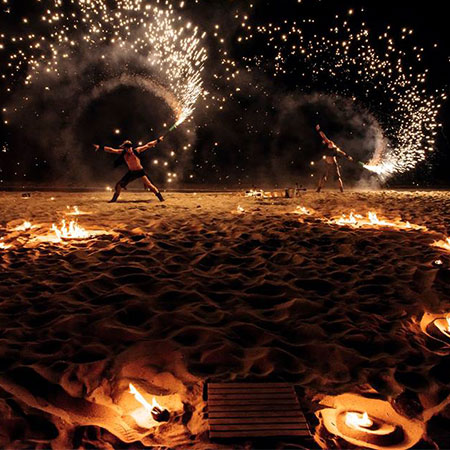 Fire Dance Duo
Dynamic fire dance show performed by two energetic fire dancers and performers
Use numerous fire props like juggling torches, fans, hoops or devilsticks to create stunning effects
Choreographies are customisable and are suitable for indoor and outdoor spaces
Duo has entertained audiences at numerous festivals, private parties, corporate events, etc.
This Fire Dance Duo is based in Ibiza and Berlin and is available for worldwide bookings
This sensational Fire Dance Duo will raise the temperature of the room with their high-energy fire dance show, a visually stunning spectacle worth witnessing. These fire dancers and acrobats are guaranteed to be an instant hit at any party, festival or special celebration!
These skilled fire performers are specialists in acrobatic fire dancing. Their performances are an explosive combination of acrobatics, dance and theatre. They use several fire props and equipment to create incredible effects and figures. Juggling torches, fire fans, hoops and devilsticks are some of the many fire props they use for their dynamic performances.
Our fire dancers and acrobats' routines are customisable. They are happy to adapt their fire dance show to different performance spaces and venues. Suitable for performances both indoors and outdoors, their show requires darkness for greater visual impact.
Dressed as fierce warriors, our fire dancers and acrobats camouflage themselves at night with fully black outfits or shine and add light to their performance with their white costumes. Whatever the occasion, they will be happy to share their ideas with you and help you make a final decision when it comes to customisation options.
Ideal entertainment option for a broad range of occasions, this fire dance show is perfect for weddings, street celebrations, VIP and beach parties, festivals, concerts, etc. They have entertained audiences at numerous festivals, events and private parties in Spain, Germany and around the world including Halloween parties, themes occasions and Medieval fairs.
At Scarlett Entertainment we pride ourselves on providing a variety of fire performers for events and occasions in Ibiza, Germany and all over the world.
Contact us today and enquire about this Fire Dance Duo by asking to speak to one of our Entertainment Coordinators. They will be more than happy to provide further details on this acrobatic fire dancing experts and guide you through the booking process.