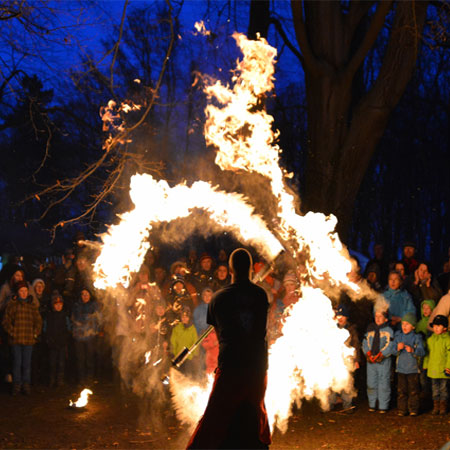 Fire Show Leipzig
Their incredible speed, skill & sensational fire tricks are breathtaking
12 different fire tools including a spark rod reaching up to 15 metres
Can incorporate names, symbols, & company logos into their performances
Ideal for festivals, gala shows, markets, weddings, & corporate events
Based in Leipzig, Germany & available to perform at events worldwide
Unleash the fire at your event with this high-octane fire show! This group of performers offer a range of sensational fire shows using the latest technology and following the highest safety standards. They have performed at private and public events across Germany including gala show, festivals, medieval markets, weddings and corporate functions.
Their performances are unique and inspiring, each performer is extremely skilled and can perform with over 12 different fire tools. Each show brings together an explosive combination of incredible speed, fascinating fire magic, and stunning explosions to create high-octane performances that will leave audiences breathless. Their unique spark rod is their pièce de résistance, with a 15 metre high reach it is an incredible one-of-a-kind visual spectacle that will astound spectators.
All of their shows can be fully customised to meet the needs of the client; they can perform an electro swing show, fire theatre show or incorporate a bespoke concept to make your event entertainment truly unique. They can offer a range of costumes and additional fire decorations including fire pits and coloured fire works, as well as incorporating names, symbols, and company logos into their shows.
They have WOW-ed audiences across Germany at the Great Winter Magic Festival 2014 in Reichenbach Vogtlan, Phoenix Fire Convention, and Fusion Festival in Lärz swell as countless other events. Their performances are just as spectacular during the daytime as they are in the dead of night, and their charm, wit and trickery will delight and entertain audiences of all ages.