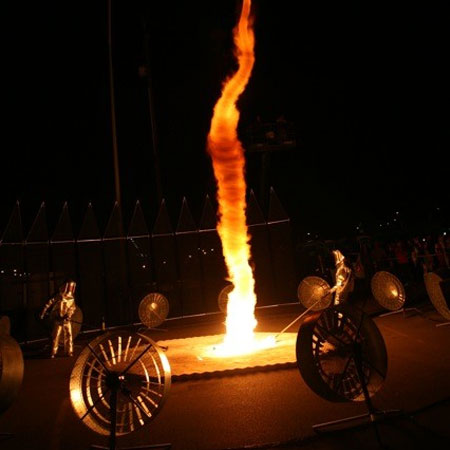 Fire Tornado
Incredible fire tornado involves a 10m swirling tunnel of flame
A truly sensational vortex, where viewers are left mesmerized
Also creates some of the world's largest Mushroom cloud fireballs
Produces a smoke ring effect, which can be seen for miles around
Based in the UK & available for events worldwide
Over many years Nate has developed an incredible Fire Tornado & some of the world's largest Mushroom cloud fireballs.
Tornado:
Largely inspired by Dust Devils (mini tornados) Nate developed a system to re-create a giant vacuum, which is pumped with gas by hand to create a 10m swirling tunnel of flame. The tornado effect creates a truly sensational vortex, where viewers are left mesmerized. Developments are also underway to create a stunning spectrum of coloured flames within it.
Mushroom fireballs:
(B.L.E.V.E.s)
These huge mushroom clouds roll from 25m to 150m in the sky. They can also be used in the day to create a smoke ring effect, which can be seen for miles around.