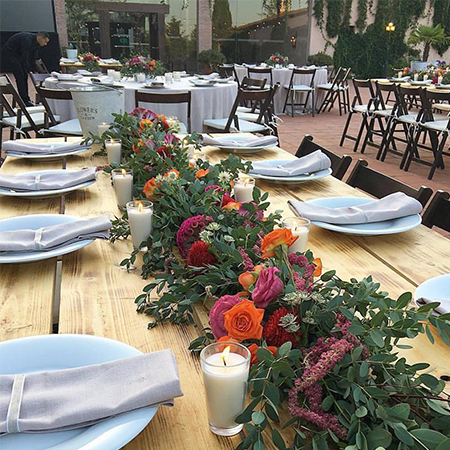 Floral Event Decorators
Bespoke flower decorations designed by experts in event floral décor
Experts in table décor, their centerpieces are real and truly unique works of art
Sophisticated flower and plant designs for corporate events, private parties, restaurants and venues
Can supply decorative flowers and plant replacements for hotels and other establishments
Can provide plant décor for events in Barcelona, Catalonia and surrounding areas in Spain
Floral Event Decorators PHOTOS
Transform your venue and provide it with a touch of elegance or sophistication by hiring these amazing Floral Event Decorators. Our expert florists and plant artists will turn the ordinary into something extraordinary only by decorating your hotel reception, restaurant or event's venue with beautiful and stylish plants.
Masters in the art of plant décor for events, these talented florists will come up with creative and spectacular ideas exclusively for your occasion. As you can see by checking the pictures above, they can create bespoke flower decorations for any type of event. Our amazing Floral Event Decorators put special effort on table décor. They design original and custom centerpieces that fit your event's theme and that are real pieces of artwork.
Floral décor is becoming increasingly popular as it adds a sophisticated and natural touch to any room, garden or table. Our corporate event florists know this and can create bespoke flower decorations for any type of company event, business lunch or dinners in hotels, hotel receptions, private parties or restaurants.
Always taking client's requests and taste into high consideration, our corporate event florists will design floral arrangements that fit your space and that reflect your company or brand's personality. In order to supply the perfect decorative flowers and plants for you, they will always study your business and carry out and in-depth analysis of the space to decorate.
Our Floral Event Decorators can also help you improve your building's image and add a luxury and natural touch to shop windows, red carpets, bars and restaurant terraces. Whatever the occasion, plant décor for events stands for elegance, refinement and style.
Our corporate event florists will help you decorate your space providing it with colour, warmth and personality. Among the services our corporate event florists can offer you can find:
Christmas plant decorations
Floral centerpieces for corporate events
Plant renting for specific events
Flower and plant replacement for hotels
If you're interested in hiring our creative Floral Event Decorators, contact us today and make your enquiry. Our in-house team of coordinators will be happy to guide you through the booking process.