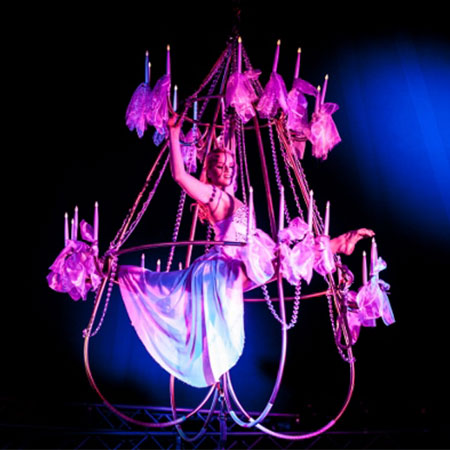 Flying Chandelier Act
Visually stunning aerial dance performed by an aerialist hung from a majestic chandelier
Beautiful aerial dance performance executed with effortless grace and exquisite elegance
Chandelier aerialist can perform as a soloist or along with other aerial dancer
Ideal entertainment option for gala dinners, after dinner experiences, ceremonies, exhibitions, etc.
This Flying Chandelier Act is available for bookings in Germany and all over the world
Flying Chandelier Act PHOTOS
If you're looking for the right entertainment for your upcoming gala, exhibition or ceremony, then this Flying Chandelier Act can be the perfect aerial dance performance for it. Gracefully executed by a sensational and sophisticated chandelier aerialist, this wonderful show will leave lasting memories and add an extra touch of elegance to your occasion.
Hung from an oversized chandelier, or aerial artist will perform a captivating choreography high in the air. Dressed in a beautiful and elegant evening gown, our chandelier aerial dancer will perform a routine that includes impossible figures and moves and that requires elasticity, physical strength and great concentration. Luminous candles and flashing crystals will create a sophisticated atmosphere and will make our chandelier aerial dancer shine even brighter.
An aerial dance performance that keeps audiences gazing up at the ceiling, this aerial chandelier performance is guaranteed to captivate viewers. Our chandelier aerialist will delight audiences with her delicacy, exquisite elegance, boundless creativity and flawless technique.
This wonderful aerial chandelier performance can be the perfect entertainment option for events such as gala dinners, after dinner experiences, ceremonies, exhibitions, and many more. Our aerial artists is also happy to adapt her routine to bigger theatre productions and variety shows and share the stage with other performers. In fact, as you can see in the pictures above, she can perform along with other dancer and offer an aerial duo.
Scarlett Entertainment offers a variety of Aerial Dance Performances for events and occasions in Germany and all over the world.
If you're interested in booking this sensational Flying Chandelier Act, don't hesitate to get in touch with us today and make an enquiry. Our in-house team of Entertainment Specialists will be more than happy to provide further details on this chandelier aerial dancer and assist you in the booking process.