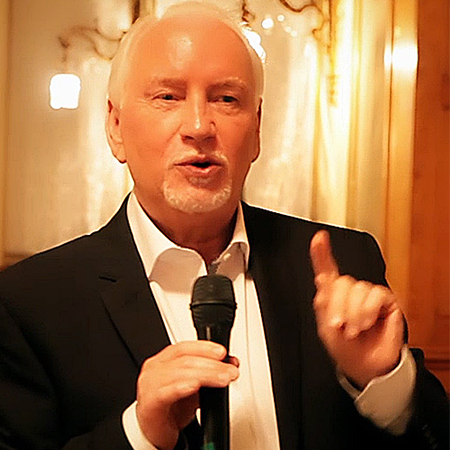 Futurist Speaker Ray
Keynote Speaker and Futurist Ray has been writing and speaking about the trends that will shape the future for over 35 years
In 2010, former President Mikhail Gorbachev presented Ray with a U.N. Gold Medal for Services to Futurology
Author of 14 books about the future, The On-Line Handbook was the world's first book to identify the overwhelming importance of the Internet
Workshop topics include understanding government digital delivery, the impact of digital technology on healthcare, robots and AI, etc.
Ray provides keynote speeches, lectures and workshops for companies, governments and universities all over the world
For over 35 years Ray has been writing and speaking about the trends that will shape the future.  His long record of accurate foresight is unique in Europe and he is now living in the future he first described 30 years ago.
Keynote Speaker and Futurist
In 2010 former President Mikhail Gorbachev presented Ray with a U.N. Gold Medal for Services to Futurology.
Ray is also a successful and proven business leader and serial entrepreneur. He has hands-on experience in creating and selling profitable businesses. Author of 14 books about the future, a body of work which he began in 1980 and which stands as a testament to the long-term accuracy and reliability of his foresight. His 1984 publication, The On-Line Handbook, was the world's first book to identify the overwhelming importance of the Internet and to identify 'search' as the key driving force behind all future online advertising and digital commerce. He is based in London.
Ray's recent workshop topics have included:
Digital disruption: changing customer expectations
Understanding government digital delivery
The impact of digital technology on healthcare
The role of clean tech in the future of transport
Robots, ai and the future of work and employment
You need to know...
Born to Irish parents, Ray Hammond was brought up and educated in West London, U.K.  At 17 he left formal education early to train as a junior news reporter on his local weekly newspaper, The Middlesex Chronicle.
During the late 1970s Ray Hammond spent considerable time in San Francisco learning about, and creating advertising for, the nascent personal computer industry in Silicon Valley. His ground-breaking publication The Modern Frankenstein became the first book to predict the importance of DNA analysis, genetic engineering, cloning and the emergence of super-intelligent machines that may become rivals to the human species later in the 21st Century.
He continues to study the key trends of the present which are likely to shape the future. These include global population growth, climate change, the energy crisis, globalization, the multiple revolutions occurring in medical/pharmaceutical science, accelerating, exponential technology development and the future of the world's poorest two billion people.
Ray provides keynote speeches, lectures and workshops for companies, governments and universities all over the world.  He is a guest lecturer at Oxford University's Oxford-Martin School, CASS Business School and Lund University. He is also an elected Fellow of the Royal Society of Arts and a member of the Science Fiction Advisory Council. 
Interested in booking Ray?
If you would like to enquire about this futuristic speaker, then contact us today and make an enquiry.