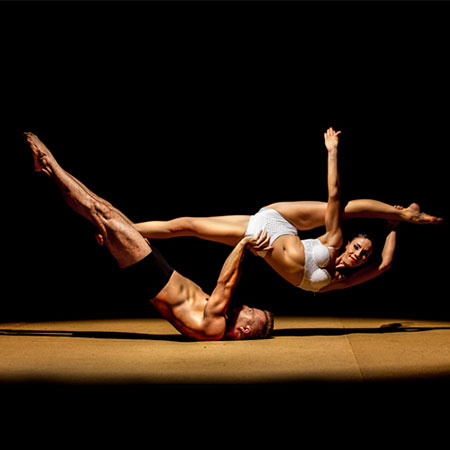 Hand Balance Duo
Moving and mesmerising hand balancing routines performed by two skilled acrobats and dancers
Act is stunning fusion of contemporary dance and incredible acrobatics
Hand balancing acro duo can customise their routines and create bespoke choreographies
Ideal entertainment option for cruise ships, resorts, galas, after dinner shows, ceremonies, etc.
This Hand Balance Duo is based in Poland and available for performances worldwide
Dazzle audiences at your upcoming big event with this pair of circus artists, a phenomenal Hand Balance Duo that is guaranteed to captivate spectators with their moving choreographies and their talent.
This hand balancing acro duo performs with great passion and emotion. This hand balancing act is a beautiful blend of dance and acrobatics, a fusion that strikes the eyes. Our male performer and female acrobat share a powerful on-stage chemistry that they transmit through dance and body language. They give shape to their beautiful hand balancing routines with some mesmerising and magnetic music and add an extra special touch to their acts by incorporating impossible figures that require great strength, coordination and, of course, balance.
Their deeply moving hand balancing routines are the perfect combination of flawless technique and fresh and bold creativity. Our acrobats and dancers mix elements from different styles and disciplines resulting in a stunning fusion of contemporary dance and incredible acrobatics.
Our circus artist's hand balancing routines are fully customisable. They can create bespoke choreographies especially for your event and also adapt them to be part of bigger theatre productions or variety shows. On top of that, this hand balancing acro duo can perform to music on request.
Especially suitable for galas, ceremonies and after dinner experiences, our skilled circus artists regularly entertain guests at resorts, cruise ships and even theme parks. Our hand balancing acro duo is always happy to share the limelight with other circus artists and performers to offer truly unique and unforgettable entertainment experiences.
Top Tip:
These versatile circus artists can also perform an act with a cyr wheel. If you would like to find out more about this, check their Cyr Wheel Duo page.
Scarlett Entertainment offers a variety hand balancing acts for events in Poland and all around the world.
To book this Hand Balance Duo, contact our in-house team of Entertainment Experts today and make an enquiry. They will be more than happy to provide further details on this hand balancing acro duo and guide you through the booking process.