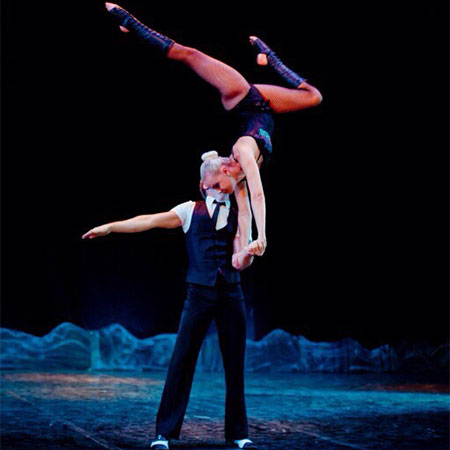 Hand Balancing Duo
An awe-inspiring and physically demanding ground acrobatic routine performed by two talented hand-balancers
Performers can create new choreographies and wear different shining outfits to fit any event's theme
Especially loved by circus lovers and also enjoyed by a wide range of audiences
Have performed at numerous cruise ships and circuses and at the Opening of the Olympic Games 2014 in Sochi
Book this Hand Balancing Duo for events in Russia and performances worldwide
Hand Balancing Duo PHOTOS
Our Hand Balancing Duo is sure to leave an impact at your event due to their stunning and physically demanding hand balance act. These fully trained acrobats will perform an awe-inspiring show that aims to impress and leave spectators astounded. Our talented hand balancers will add the differential factor you're looking to provide your event with.
In addition to physically demanding work, this hand balance act is also a show based on emotions and individual expressions. This couple of acrobats will take this circus entertainment experience to another level with this extraordinary ground acrobatic routine full of sensibility and beauty.
Their displays of balance, strength and skills along with their palpable chemistry make of their hand balance act one of the most applauded and commented performances of any event.
Mostly loved by circus lovers, this Hand Balancing Duo is also loved by a wide range of audiences regardless of age. They always leave viewers wide-eyed with their impressive skills and their emotional and intense performance.
These talented hand balancers can adapt their show to suit your event's requirements, so they can wear different shining costumes to fit your event's theme and they could also perform to requested songs and create brand new choreographies for you.
Their hand balance act has already delighted the eyes of viewers at various venues around Europe and Asia. They're especially demanded by cruise ships, circuses and sports ceremonies, as can be seen by clicking the tab above. Some of their previous clients include Princess Cruise, Circus Arena Moscow and they also performed at the Opening of the Olympic Games 2014 in Sochi.
Don't miss the opportunity to create unforgettable memories on your guests with this phenomenal Hand Balancing Duo.
Booking a circus entertainment experience has never been easier. Contact us today and make your enquiry.
Costa Cruise
Princess Cruise
The Musical Sleeping Beauty Moscow
Circus Arena Moscow
Opening of the Olympic Games 2014 in Sochi
Star Cruise
Circus Quimera Spain