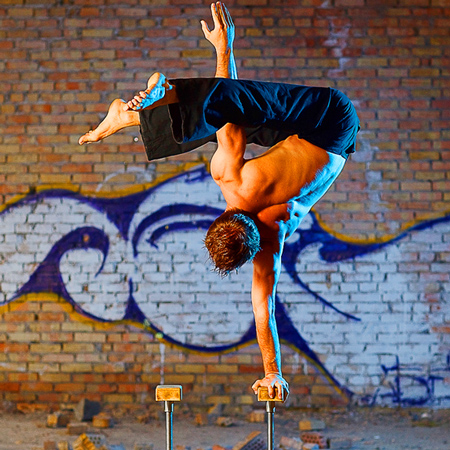 Handstand Act Ukraine
Incredible handstand performer with a unique routine to wow your guests
Superb hand balancing act combined with a choreographed contemporary dance
Professional acrobat with many years experience performing circus entertainment
Versatile entertainment suitable for my types of events or occasions
Based in Ukraine and available internationally
Handstand Act Ukraine PHOTOS
Scarlett Entertainment is proud to boast a roster full of innovative and exciting circus entertainment acts from all over the world. Whatever you event type, we'll have the circus entertainment to suit you and your requirements. Breaking the mould of the usual hand balancing acts is our Ukrainian acrobat. He will amaze your audience with his graceful display of strength, balance and a contemporary dance routine.
Years of practise and mastering his body strength have lead this acrobat to becoming a pro at the art of hand balancing. His hand balancing act is eloquently intertwined with a carefully choreographed contemporary dance meets a visual performance. He has created an act that combines contemporary dance with circa us entertainment and the result is something that your guests probably won't have ever seen before.
Our professionally trained handstand performer studied hand balancing at the Kiev Circus Academy and has well over ten years of experience and achievements. From circus tours in Russia and Saudi Arabia, performing at the Dasdi Brettl variety show in Germany, Dream Show in Istanbul as well as entertaining passengers aboard international cruise ships.
Book this amazing handstand performer to have you audience gazing in amazement. The hand balancing act is incredibly diverse in its audience appeal therefor suitable for family friendly events and festivals right through to gala dinners and corporate events.
Get in contact with our amazing Scarlett Entertainment team of specialists to book this enthralling circus entertainment for your special event.